Coming Soon
Coming Soon
Science in Focus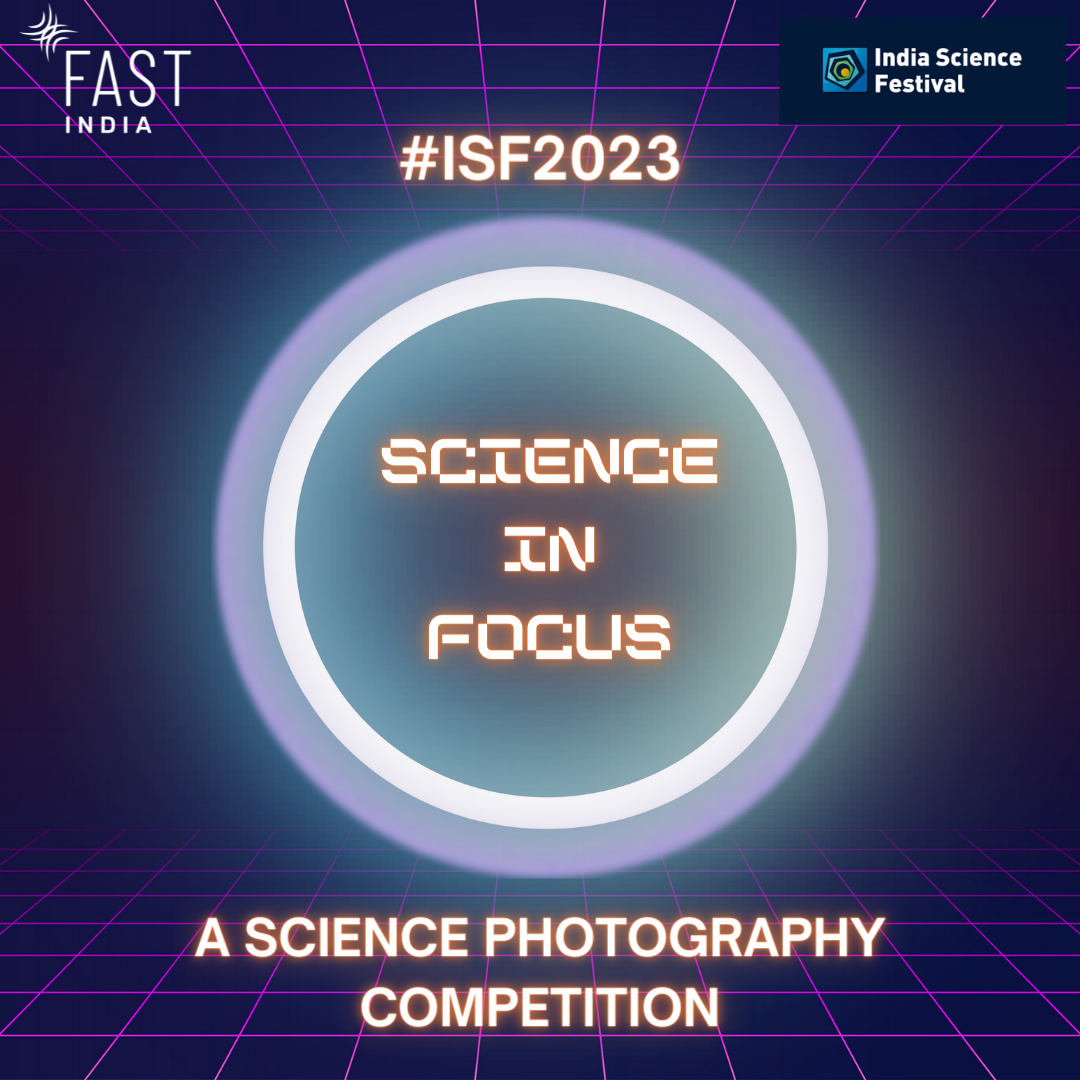 A photography competition at ISF 2023, which encourages people to showcase their photography skills.
Photography has emerged as a powerful tool to tell stories of science and simplify scientific ideas and concepts that are difficult to capture through words. Through 'Science in Focus', we are seeking compelling visual stories on the theme of 'everyday science'. Science is not just confined to research labs or classrooms, it's a way to make better sense of the world around us and to help solve our many problems. This competition will allow participants to share their encounters with science in everyday life.
Professional science photographers will be engaged as mentors and judges for the contest.
The shortlisted entries will be showcased at an exhibition.
Additional information on the competition:
The finalists' entries will be displayed in an online exhibition as well as in an offline mode, (on the ISF grounds)

The contest is free to enter, and open to all members of the public. Entries must be submitted by 31st October 2022, 23:59 PM IST. Submissions will not be accepted once the deadline lapses.
Images must be taken in 2022 and entries should be based on contest guidelines. Images should be supplied at as high a resolution as possible (for printing up to A1 minimum), suitable for printing in media and an exhibition. Images must be supplied in a clean format

(e.g. no text, symbols, and borders)

. Images should be no larger than 10 MB. Photos must be in JPEG format. 

Each participant can submit up to two images. Judging will be based on the single image and not the series of images.

Each image must be accompanied with the name of contributor(s), title of the image, story behind the image (a brief lay description of the image preferably in the form of a story, of not more than 80 words.)

ISF may run an online rating process whereby members of the public may vote for a favourite photograph.

Basic editing, including colour enhancement, the use of filters, and cropping is acceptable. Advanced editing used to create illusions, deceptions and/or manipulations, and the adding/ removing of significant elements within the frame is prohibited.

The decision of the Judges and ISF is final and no negotiation will be entertained with respect to any such decision.

Photo entries will be stored in the ISF image database and duly acknowledged if used for organisational or educational purposes.

Entries containing any infringing, threatening, false, misleading, abusive, harassing, libellous, defamatory, vulgar, obscene, scandalous, inflammatory, pornographic or profane content shall be automatically disqualified.
Timeline:
Last date of Submission: 31st October 2022 11.59 pm IST
Announcement of finalists: 15th November 2022
Exhibition: 20th to 22nd January 2023 at India Science Festival in Hyderabad
Announcement of winners: February 2023
Prizes:
Exciting cash prizes will be awarded to the top 3 entries.
FAQs:
1. Do I need to have to be a professional photographer to participate?
 – Anyone interested in photography is welcome to enter this contest!
2. Do I need to have a professional camera/ equipment to participate?
 – No, you can use any photography equipment, this includes a DSLR/ Digital camera or a mobile phone.
3. Will ISF get the copyright for my photograph?
– No, the photographer will retain the copyrights of their entries. ISF will not claim copyright over the photographs.
4. Can I submit entries in black and white?
–  Yes.
5. Can I enter a photograph that I have submitted for other competitions?
– No.
For any queries, please contact Utsav Thapliyal at utsav@fast-india.org.
Search for physics beyond the Standard Model
Science is driven by curiosity and scientific curiosity comes from the desire to learn the facts of nature. We can understand natural phenomena by building a model based on certain assumptions. These models can describe the phenomena as well as predict what lies ahead. A good discovery relies on the impeccable reproducibility of the detection and a good detection method is often associated with an elegant yet simple technique.
The standard model (SM) of elementary particles [1] is a successful milestone in our current understanding of fundamental phenomena happening in our universe. As a particle physicist and a member of the CMS collaboration, I am looking for evidence of new physics that lies beyond the SM. I'm trying to discover answers to some big mysteries of the universe like dark matter, hierarchy of the fundamental particle masses, or something even deeper… why we exist at all?
Like cells are the smallest unit of life, atoms are the basic building blocks of matter. An atom is a million times smaller than the thickness of a human hair and for many years was thought to be fundamental. But experiments in the late 19th and early 20th century unveiled atomic substructure and established the existence of even smaller constituents – electrons, protons and neutrons. These fundamental particles bind together using the electromagnetic force to form matter. Further, protons and neutrons are composed of quarks which bind together using the strong force, which is in fact the strongest interaction in nature at subatomic length scales. The final force in the SM is the weak force which is crucial for sustaining life on Earth. It powers our Sun through the thermonuclear process taking place at its core. Interestingly, the SM doesn't describe the fourth fundamental interaction, the gravitational force.
In the SM, there are three generations of matter, each composed of a charged lepton, a lepton neutrino and a pair of quarks. Thus, there are six leptons and six quarks; each of these twelve particles has its own antiparticle. In addition, there are four force carriers for the three forces of nature (the strong, weak and electromagnetic forces). Lastly, the higgs boson interacts through its field with all the particles and assigns them the masses that they have. However, the higgs boson does not interact with neutrinos and neutrinos are massless in the SM. Recently the neutrino oscillation experiments [2] established that at least two out of the three neutrinos have a very tiny non-zero mass. The mass mechanism as well as the smallness of neutrino masses is still an unsolved mystery. In my research, I am trying to solve this mystery.
In my group, we use leptons as a basic tool and construct a multilepton search strategy which has the advantage of having a high signal to noise ratio. The multilepton final state is a good probe because of the clean signature in the detector and less contamination from the known SM processes. In our analyses, we have looked for evidence of the type-III seesaw mechanism which explains the smallness of neutrino masses. We searched for three new heavy particles (two charged and one neutral sigma fermions) that couple to leptons and to a Higgs boson doublet [3]. We also searched for vector-like leptons using the same search strategy [4]. The vector-like leptons arise in a wide variety of models ranging from supersymmetry to extra dimensions. Currently, we are studying the neutrino minimal SM [5] which incorporates the seesaw mechanism, provides a suitable dark matter candidate, and gives a possible explanation of the matter-antimatter asymmetry that we observe in the universe. This model can also be probed with the help of leptons, especially those of the third generation.
To understand observations and find signs of new physics, it is very important to have a good handle on known SM processes. A powerful way to do this is through simulation. Detailed simulation of the detector uses substantial resources in terms of computing units and memory consumption. In CMS, we have developed an alternate fast simulation [6] which uses less resources but can be equally potent in describing certain physical phenomena. The CMS charged particle subdetector was upgraded in 2017 for longevity and an improved detection technique. I wrote the simulation software, to implement the new geometry of the upgraded detector, and the consequent modifications in the subdetector algorithms.
In my presentation, I will describe the multilepton search tool, the role of the upgraded simulation and some of the results of our search for physics beyond the SM.
Review of Particle Physics, M. Tanabashi et al. (Particle Data Group), Phys. Rev. D 98, 030001 (2018)
Evidence for oscillation of atmospheric neutrinos, Y. Fukuda et al. (Super-Kamiokande Collaboration), Phys. Rev. Lett. 81 1562-1567 (1998)
Search for Evidence of the Type-III Seesaw Mechanism in Multilepton Final States in Proton-Proton Collisions at √s=13
TeV, The CMS collaboration, Phys. Rev. Lett. 119, 221802 (2017)
Search for vector-like leptons in multilepton final states in proton-proton collisions at √s = 13 TeV, The CMS collaboration, Phys. Rev. D 100, 052003 (2019)
The ν MSM, Dark Matter and Neutrino Masses, Takehiko Asaka, Steve Blanchet, Mikhail Shaposhnikov, Phys. Lett. B. 631, 151-156 (2005)
Recent Developments in CMS Fast Simulation, The CMS collaboration, PoS ICHEP2016 181 (2016)
Full list of publications can be found here
Factors affecting lift generation in insects & birds
Flapping flight, typical in insects and birds, is known to generate large aerodynamic forces as compared to fixed-wing flight, as in airplanes. In a typical flapping cycle, the airfoil translates from one end of the stroke to another. Near the ends of stroke, the airfoil goes through rotations, that are termed as pronation and supination. The underlying fluid phenomena are highly unsteady, and the production of high lift is attributed to primarily three factors — delayed stall due to leading-edge vortex (LEV), rotational forces and wing-wake interactions.
Although these factors have been studied quite extensively, there is less clarity on the physics that underly these phenomena. This work attempts to understand how each of these factors affect lift generation and to what extent they contribute to the overall lift. For this purpose, we adopt an idealized set of kinematics. The airfoil translates from one end of stroke (A) to the other (B) at a constant pitch angle, $alpha$ (angle between the chord and the horizontal). After reaching the extreme position (B), it stops to translate and rotates to the new pitch angle, $(pi-alpha)$, about its quarter chord. After attaining the new orientation, it starts to translate back to point A at a constant pitch angle. It is noted that the airfoil never rotates and translates simultaneously at any point in the flapping cycle.
In reality, the translation and rotation overlap near the end of stroke. However, the reason for adopting this kinematics is that the lift response can now be demarcated into a translational part and a rotational part, and the lift peaks can be compared. In addition, the effect of wing-wake interactions can be measured by comparing the translational and rotational parts of the flapping response with that of the corresponding pure motions (pure translation being the airfoil translating from A to B in a quiescent medium and pure rotation being the airfoil rotating from $alpha$ to $(pi-alpha)$ while at point B, in a quiescent medium). All the cases are analyzed using CFD; immersed-boundary method.
Three cases of flapping are considered, with each case having exactly the same kinematics for translation, with the duration of translation being $t_t$ = 0.00892 s. They differ in the duration of rotation, with Case 1 having a rotation duration of $t_r$ = 0.01432 s and Cases 2 and 3 having half the duration of the previous case. These choices are such that for Case 3, flapping frequency is 40 Hz, a typical range for many insects like dragonflies. In addition, the cases of pure translation and pure rotations are considered for isolating the effects of wing-wake interactions.
In the case of pure translation, it is seen that the airfoil experiences an initial surge in lift associated with the rapid acceleration near the beginning of the stroke. The lift force drops a bit and then stabilizes at a constant value for the remaining stroke due to the sustenance of the LEV. The drop in lift is attributed to the fact that the LEV is still forming. At the end of the translation, lift drops owing to the rapid deceleration of the airfoil. In the cases of pure rotation, it is observed that the airfoil experiences higher forces for lower durations of rotation. It generates positive and negative peaks of nearly the same magnitude. Also, it is seen that the vortices generated are much stronger with increasing pitch rates.
In the cases of flapping, it is seen that in all three cases, the translational part generates higher lift as compared to the rotation part. The comparison of the flapping lift history with that of the pure cases reveals that the wing-wake interactions affect the translational part more significantly than the rotational part. The effect of wing-wake interaction in translation is more prominent in Case 3 as compared to Case 2 and even lesser in Case 1. The duration of rotation, therefore, decides the strength of the vortices shed into the wake and, thereby, the magnitude of the wing-wake interaction. Another interesting observation made is that the periodicity of the lift history changes in Case 3 with half the flapping frequency (20 Hz) showing up in the history. Further investigations are required to ascertain the reason for this behaviour.
In conclusion, it is inferred that translation happens to be a better contributor to lift generation compared to rotation. Also, wing-wake interactions affect the translational part of the flapping response more than the rotational part. Higher pitch rates generate stronger vortices, which result in stronger wing-wake interactions on the translational phase.
Control of unstart phenomena in scramjet engines
Scramjets or supersonic combustion air-breathing engines are for long being considered a revolutionary engine technology aiming to fly craft at high Mach number range of 5 to 15 and seamlessly integrating air-to-space operations [1] primarily to synthesize a launch vehicle for achieving single-stage to orbit or SSTO and air to surface hypersonic cruise missiles. In late 1950's U.S.A.F., U.S. Navy and NASA began developing scramjet engines and performed several tests at Langley Research Centre [1]. There have been numerous test runs throughout the world like Hypersonic Research Engine/HRE (NASA), Boeing X-51, X-41 (U.S.A.F), HyShot(Australia, US & UK), ATV (India) which has involved billions of dollars spent in R&D. Despite huge investment, this great future technology is still under wraps because of a common problem of inlet unstart i.e. choking of the inlet of the scramjet engine by high pressure fluid.
Physical experimental setup incurs huge cost and the numerical method involving Computational Fluid Dynamics for hypersonic flows always pose challenges due to complexities and scarce experimental data. Present study initially focuses on numerical methodology development for modelling supersonic combustion using 8 species, 13-reaction chemical model validated against benchmark supersonic combustion experiment at DLR test facility. Similar methodology has been further used to model the unstart phenomenon in a modified scramjet geometry of Wagner et al.[4], where sudden heat release caused by combustion was also used to generate unstart along with lifting of flap[3]. Control System mitigating unstart by leaking high-pressure fluid from the slots (bleeding) designed on lower wall or cowl (2D) and sidewall (3D) is suggested. Slot's size and position effect on mechanism's efficacy is studied and an automatic slot control mechanism to control unstart is proposed. Bleeding effect on engine performance parameters is also explored.
Further, the work focuses on discovering the underlying phenomenon behind the control method's efficacy. Scramjet inlet's compression system involves complex phenomenon featuring shock-shock interaction, shock-boundary layer interaction, flow separation, separation bubble-boundary layer interaction etc. Pressure losses and deteriorated engine performance parameters is preceded by flow separation bubble consequently resulting in unstart. Therefore, measures must be taken to reduce the interaction between shock-boundary layer and separation bubble. Boundary Layer manipulations have extensively been studied to reduce the pressure loss associated with shock/turbulent-boundary-layer interactions. Passive control methods such as suction[5], blowing [6] affect the boundary layer by generating turbulence which in turn enhances the momentum transfer in the boundary layer while delaying boundary-layer separation [7]. Various device shapes, such as grooves, slots and slits combined with passive cavities[8,9] have been used to modify shock boundary-layer interaction through streamwise vortex generation. Bleeding controls boundary-layer growth and shock induced boundary-layer separation [10]. Bleeding away the near-wall boundary layer at certain locations improves pressure recovery and reduces shock instabilities and extends the manoeuvring range. Kouchi et al [10] experimentally showed that bleeding of 0.65% captured airflow effectively suppressed boundary layer separation, improved unstart characteristics and doubled engine's operating range. Bleeding implementation leads to a reduction of the separation bubble thickness (~50%) and vortex-induced localized thermal loads.
Bibliography
* This work is selected to be presented at AIAA Scitech Forum and Exposition 2020 (between NASA & Lockheed Martin) at USA
James Ramsay Drummond, Marc Bouchez, and Charles R. Mcclinton, editors. CHAPTER 1: OVERVIEW OF NATO BACKGROUND ON SCRAMJET TECHNOLOGY. NASA Technical Reports Server, 2005
Wikstrom N. Berglund, M. and C. Fureby. Numerical simulation of scramjet combustion. Swedish Defence Research Agency, 2005.
R. Pecnik I. Jang and P. Moin. A numerical study of the unstart event in an inlet/isolator model. Stanford Center for Turbulence Research Annual Research Beliefs, 2010.
Justin Wagner, Kemal Yuceil, and Noel Clemens. Piv measurements of unstart of an inlet-isolator model in a mach 5 flow. In 39th AIAA Fluid Dynamics Conference, 2012
M. J. MORRIS, M. SAJBEN, and J. C. KROUTIL. Experimental investigation of normal-shock/turbulent-boundary-layer interactions with and without mass removal. AIAA Journal, 30(2):359–366, 1992.
Jean M. Delery. Shock wave/turbulent boundary layer interaction and its control. Progress in Aerospace Sciences, 22(4):209 – 280, 1985
D. C. MCCORMICK. Shock/boundary-layer interaction control with vortex generators and passive cavity. AIAA Journal, 31(1):91–96, 1993
Everett S. Hafenrichter, Yeol Lee, J. Craig Dutton, and Eric Loth. Normal shock/boundary-layer interaction control using aeroelastic mesoflaps. Journal of Propulsion and Power, 19(3):464–472, 2003
T. I.-P. SHIH, M. J. RIMLINGER, and W. J. CHYU. Three-dimensional shockwave/boundary-layer interactions with bleed. AIAA Journal, 31(10):1819–1826, 1993
Toshinori Kouchi, Tohru Mitani, and Goro Masuya. Numerical simulations in scramjet combustion with boundary-layer bleeding. Journal of Propulsion and Power, 21(4):642–649, 2005
Potential role for the onset of recombination events
Viral characteristics associated with maintenance of elite neutralizing activity in chronically HIV-1 clade C infected monozygotic pediatric twins: Implications for vaccine design
Nitesh Mishra1, Muzamil Ashraf Makhdoomi1,2, Shaifali Sharma1, Sanjeev Kumar1, Deepshika Kumar1, Himanshi Chawla1, Ravinder Singh3, Uma Kanga4, Bimal Kumar Das3, Rakesh Lodha5, Sushil K Kabra5, Kalpana Luthra1.
1Department of Biochemistry, 3Department of Microbiology, 4Department of Transplant Immunology and Immunogenetics, 5Department of Pediatrics, All India Institute of Medical Sciences, New Delhi, India. 2Department of Biochemistry, Government College for Women, Cluster University Srinagar, Srinagar, India.
Abstract
HIV, or human immunodeficiency virus is a retrovirus that primarily infects CD4 T cells, one of the key players of our immune system. HIV-1 envelope glycoprotein (env), a trimer of heterodimer containing gp120 and gp41 subunits, mediates viral entry, and is the sole target of broadly neutralizing antibodies (bnAbs), though bnAbs only develop in <10-15% of infected individuals. A protective HIV-1 vaccine capable of inducing such bnAbs is needed, but few candidates, with BG505.SOSIP.664 being the prominent one, capable of doing so are known (1). Extensive genetic diversity due to an error prone reverse transcriptase further impedes the search for capable HIV-1 vaccine candidates. In infected children, bnAbs with multiple epitope specificities, a feature seen only in children, evolve over several years of infection (2-4). Elite neutralizers are top 1% of HIV-1 infected individuals with highly potent plasma antibodies capable of neutralizing diverse strains of HIV-1 (5). Chronically HIV-1 infected children with elite plasma neutralizing activity are suitable candidates to understand the mechanisms leading to the co-evolution of virus and antibody response targeting multiple epitopes, and to identify viral strains capable of serving as vaccine candidates.
Herein, we report longitudinal diverse co-evolution of bnAbs and circulating viral variants in a pair of genetically identical twins over a period of 60 months, even though they were infected at the same time point, had the same source of infection, and similar CD4+ T cell counts, with an added advantage of assessments at matched time points between two infected individuals belonging to one transmission pair. To study the evolutionary course of HIV env in the context of an elite neutralizing serological response, circulating viral variants from twins were generated, and assessed for their vulnerability to autologous plasma antibodies, known bnAbs and non-nAbs. Plasma neutralization activity was assessed by standardized TZM-bl based neutralization assay (6). Utilizing standard HIV virus panel reflective of the global env diversity, and single base mutants, we assessed the plasma antibody neutralizing activity, characterized the epitopes against which the antibody response was directed. In addition, chimeric viruses were generated by domain swapping to assess escape pathways utilized by HIV-1 to gain resistance to contemporaneous autologous plasma bnAbs as well as assessed the features associated with maintenance of elite plasma neutralizing activity.
The plasma from both donors, sharing a similar genetic makeup and infecting virus, showed the evolvement of bnAbs targeting common epitopes in the V2 and V3 regions of the envelope, suggesting bnAb development in these twins may perhaps be determined by specific sequences in the shared virus that can eventually guide the development of immunogens aimed at eliciting V2 and V3 bNAbs. Elite plasma neutralizing activity was observed since the initial sampling at 78 months of age in AIIMS_330 and persisted throughout, while in AIIMS_329 it was seen at 90 months of age, after which the potency decreased over time. Viral diversity characterization showed higher diversity in AIIMS_330 with majority of the viral variants sensitive to autologous plasma antibodies compared to AIIMS_329 in whom the circulating viral variants were resistant to autologous plasma antibodies. Evolution of env was studied in both twins to identify the influence of discrete env evolutionary pathway on distinct plasma nAb neutralization potential. No distinguishing features were observed between twins in terms of evolutionary rates, overall viral diversity, bnAb epitope diversification or evolutionary resistance pathways for known bnAbs. However, in AIIMS_330 only, prominent recombination events were observed. The evolving recombinants in AIIMS_330 showed positively selected residues within bnAb epitopes compared to non-recombinants viruses in AIIMS_329. The viral env diversification pathway observed in AIIMS_330 provides key clues for the development of sequential and cocktail immunization strategies. In addition, we describe two HIV-1 envelope glycoproteins, 329.14.B1 and 330.16.E6, isolated from AIIMS_329 and AIIMS_330. 329.14.B1 and 330.16.E6 were susceptible to all major known bnAbs targeting the key sites of vulnerability and were capable of binding bnAbs in their native forms. Heterologous plasmas from HIV-1 infected infants potently neutralized the pseudoviruses with 329.14.B1 and 330.16.E6 envelope glycoprotein, suggesting antibodies capable of recognizing these envelopes exist in HIV-1 infected infants of Indian origin. Envelopes were resistant to soluble CD4 and non-neutralizing antibodies. Glycan shield mapping showed both envelope glycoprotein with intact glycan shield, offering another advantage as completely glycan shielded viruses are associated with accelerated neutralization breadth development (7-8).
Our data, acquired in HIV-1 infected monozygotic pediatric transmission pair, suggests a potential role for the onset of recombination events and positive selection within bnAb epitope in development of elite plasma neutralizing activity.
Abstract Body Count – 742 words
This work was published in two papers in Journal of Virology
https://drive.google.com/open?id=1zbZvJpAuPGcwhhJwi6kzZoMW-DQ-Cdsh
https://drive.google.com/open?id=1mFdlU4mCAmxiIBMs3kll_6p_mCSjGpup
Video
https://drive.google.com/open?id=194dyyZZb26X_xgpNX9L0LLt0feZvxrXM
Previously Published Papers
https://drive.google.com/open?id=1Si5i4U6VYqpLd0ebHnlbx6hJ000JLyTc
https://drive.google.com/open?id=17Oz1iT8Ipv3NW0IOQfGSpUR-W4GVbJM9
https://drive.google.com/open?id=1ninqp9t4EPFazBmCNUiXn223CHtjHydf
Bibliography
1.Sanders RW, van Gils MJ, Derking R, Sok D, Ketas TJ, Burger JA, Ozorowski G, Cupo A, Simonich C, Goo L, Arendt H, Kim HJ, Lee JH, Pugach P, Williams M, Debnath G, Moldt B, van Breemen MJ, Isik G, Medina-Ramírez M, Back JW, Koff WC, Julien J-P, Rakasz EG, Seaman MS, Guttman M, Lee KK, Klasse PJ, LaBranche C, Schief WR, Wilson IA, Overbaugh J, Burton DR, Ward AB, Montefiori DC, Dean H, Moore JP. 2015. HIV-1 vaccines. HIV-1 neutralizing antibodies induced by native-like envelope trimers. Science 349:aac4223. https://doi.org/10.1126/science.aac4223.
2.Goulder PJ, Lewin SR, Leitman EM. 2016. Paediatric HIV infection: the potential for cure. Nat Rev Immunol 16:259 –271. https://doi.org/10.1038/nri.2016.19.
3.Ditse Z, Muenchhoff M, Adland E, Jooste P, Goulder P, Moore PL, Morris L. 2018. HIV-1 subtype C-infected children with exceptional neutralization breadth exhibit polyclonal responses targeting known epitopes. J Virol 92:e00878-18. https://doi.org/10.1128/JVI.00878-18.
4.Goo L, Chohan V, Nduati R, Overbaugh J. 2014. Early development of broadly neutralizing antibodies in HIV-1-infected infants. Nat Med 20:655–658. https://doi.org/10.1038/nm.3565.
5.Simek MD1, Rida W, Priddy FH, Pung P, Carrow E, Laufer DS, Lehrman JK, Boaz M, Tarragona-Fiol T, Miiro G, Birungi J, Pozniak A, McPhee DA, Manigart O, Karita E, Inwoley A, Jaoko W, Dehovitz J, Bekker LG, Pitisuttithum P, Paris R, Walker LM, Poignard P, Wrin T, Fast PE, Burton DR, Koff WC. Human immunodeficiency virus type 1 elite neutralizers: individuals with broad and potent neutralizing activity identified by using a high-throughput neutralization assay together with an analytical selection algorithm. J Virol. 2009 Jul;83(14):7337-48. doi: 10.1128/JVI.00110-09. Epub 2009 May 13.
6.Li M, Gao F, Mascola JR, Stamatatos L, Polonis VR, Koutsoukos M, Voss G, Goepfert P, Gilbert P, Greene KM, Bilska M, Kothe DL, Salazar-Gonzalez JF, Wei X, Decker JM, Hahn BH, Montefiori DC. 2005. Human immunodeficiency virus type 1 env clones from acute and early subtype B infections for standardized assessments of vaccine-elicited neutralizing antibodies. J Virol 79:10108 –10125. https://doi.org/10.1128/JVI.79.16.10108-10125.2005.
7.Keele BF, Giorgi EE, Salazar-Gonzalez JF, Decker JM, Pham KT, Salazar MG, Sun C, Grayson T, Wang S, Li H, Wei X, Jiang C, Kirchherr JL, Gao F, Anderson JA, Ping L-H, Swanstrom R, Tomaras GD, Blattner WA, Goepfert PA, Kilby JM, Saag MS, Delwart EL, Busch MP, Cohen MS, Montefiori DC, Haynes BF, Gaschen B, Athreya GS, Lee HY, Wood N, Seoighe C, Perelson AS, Bhattacharya T, Korber BT, Hahn BH, Shaw GM. 2008. Identification and characterization of transmitted and early founder virus envelopes in primary HIV-1 infection. Proc Natl Acad Sci U S A 105:7552–7557. https://doi.org/10.1073/pnas.0802203105.
8.Rademeyer C, Korber B, Seaman MS, Giorgi EE, Thebus R, Robles A, Sheward DJ, Wagh K, Garrity J, Carey BR, Gao H, Greene KM, Tang H, Bandawe GP, Marais JC, Diphoko TE, Hraber P, Tumba N, Moore PL, Gray GE, Kublin J, McElrath MJ, Vermeulen M, Middelkoop K, Bekker L-G, Hoelscher M, Maboko L, Makhema J, Robb ML, Abdool Karim S, Abdool Karim Q, Kim JH, Hahn BH, Gao F, Swanstrom R, Morris L, Montefiori DC, Williamson C. 2016. Features of recently transmitted HIV-1 clade C viruses that impact antibody recognition: implications for active and passive immunization. PLoS Pathog 12:e1005742. https://doi.org/10.1371/journal.ppat.1005742.
How to teach a robot to do brain surgery?
It takes about 5 minutes to allow for blood flow to the brain after removing a temporary clip during surgery for a cerebral aneurysm. It is about the same time taken to relieve a cramp in the leg. It is also the time taken for my tremors to calm down before the all-important step of aneurysm clipping. Surgery on the brain is thus a very human task involving a deadly cocktail of Adrenaline and Cortisol.
But can a robot perform brain surgery? The question forms the basis of work conducted jointly between NIMHANS, a tertiary care hospital for diseases of the nervous system and IIIT-B, an institute with expertise in engineering. Surgical robots available at present are slaves and the surgeon their master. The robot mimics the surgeons' hands, albeit with greater accuracy and no tremor.
The manipulation of volume and management of time are vital skill sets of the neurosurgeon. Structures are modified, joined, removed, destroyed or aligned. Thus tumours are removed and bleeding blood vessels destroyed. All of these volumes are visualised using an operating microscope and operated upon using micro instruments.
The views obtained during brain surgery are different from different perspectives for a given target volume. The target volume for surgery is determined based on medical imaging tools such as a CT scan, MRI scan and angiography. The visualised volume can consist of both normal and abnormal tissues. A brain tumour can be thought of as an abnormal volume contained within normal brain volume. Each surgical step can be thought of as a function call implemented on the visualised target volume. Just like a function key is used to implement a computer task, a surgical tool is used to perform a surgical step. The manipulated tissue reacts: tumours bleed, vessels contract. These tissue actions, in turn, evoke surgeon reactions. Every surgeon responds uniquely to a given surgical event. Each action-reaction sequence can be labelled a state of the surgical field. The state here refers to an entity with attributes such as anatomical volume, physiological parameters such as heart rate, the extent of blood loss at that instant. An action performed using surgical tools results in a new state. A surgeon does not compute every outcome in a given 'state'. Creating a model which envisions every surgical state and corresponding reactions is not feasible. In practice, surgeons evaluate actions in terms of risk. Actions of the surgeon are target-oriented and are sequentially performed step-wise to achieve the surgical goal. Each action thus acquires a risk value. The surgeon evaluates the risk and decides on the course of action. The entire surgical procedure can be thought of individual small action steps performed in sequence. Each step thus changes an existing state of surgery into a new surgical state. A small amount of risk is taken in reaching every new state. Risk has an anatomical or static component and execution or dynamic component. Similar to risk, there is also a reward component in moving from a state to a new state. Tumour volume decreases as more and more tissue is removed. A cost is incurred while traversing from one state to the next. As the time taken to remove a tumour is increased, duration of time when blood loss occurs increases, which are an example of the cost incurred.
A Markov Decision Process is a mathematical method to model real-life situations. The technique utilises entities such as states, actions, probabilities and rewards to model stochastic processes. Surgery can be defined as a set of stochastic actions which are executed by the surgeon. The concepts outlined above are in alignment with the requirements of a Markov Decision Process. The reward and cost are factors which are the outcomes of progressing from one surgical state to the next and can be generalised to the entire surgical event. It is thus possible to model a complete surgery using a mathematical method like the Markov Decision Process.
The work presented here attempts to apply knowledge from diverse fields such as artificial intelligence and robotics to advance surgery on the brain. If I succeed in this endeavour, I foresee myself as my "assistant's" assistant in the future! Eventually, I may even lose my job.