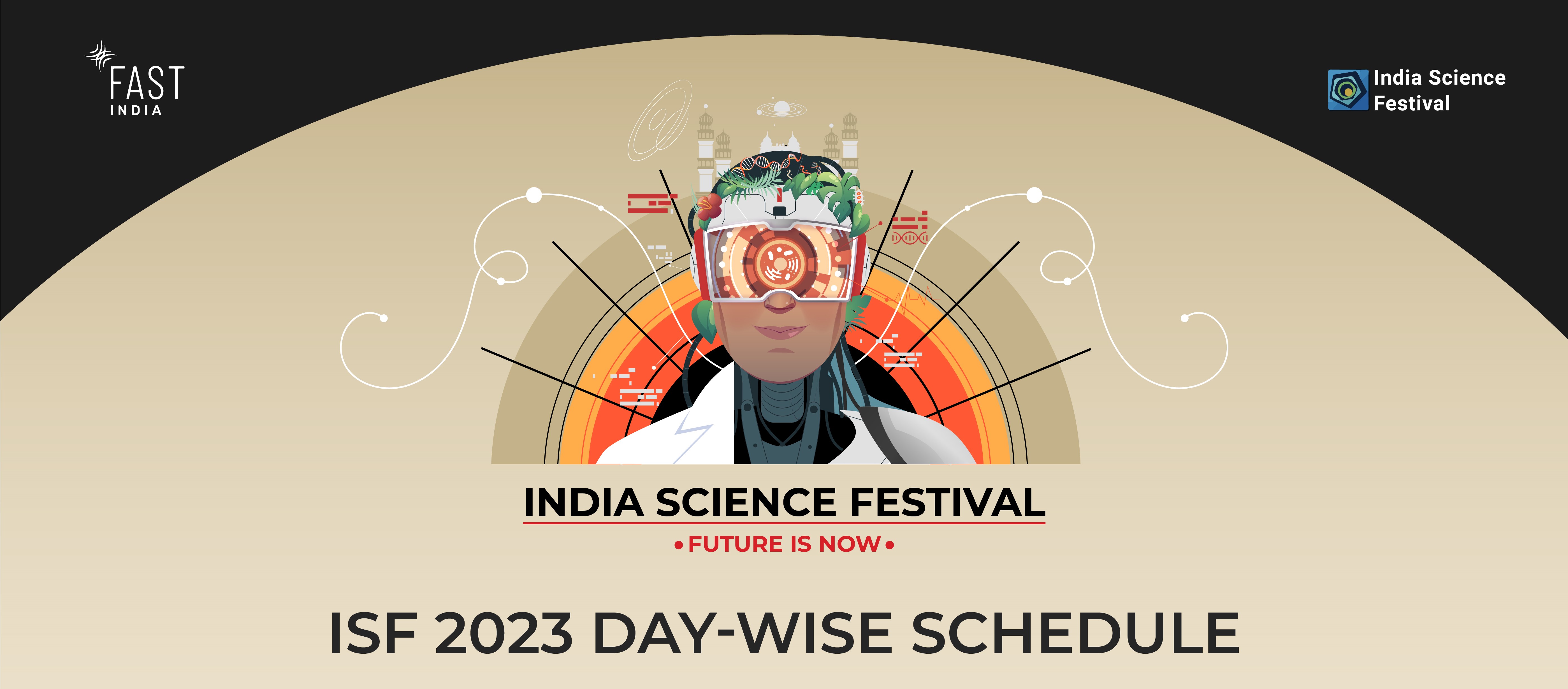 Eyes behind the JWST: from First Light to New Planets
Mark McCaughrean,
European Space Agency, Netherlands
Machine Learning: past, present, and (a likely) future
Prateek Jain,
Google Research India
Changing trends: What it means to be a technologist in 21st Century?
Jayant Krishna (FAST India)
in conversation with
Charu Srinivasan, Microsoft India
Footsteps across Antarctica to Arctic via the Stratosphere
In conversation with
Dr Shivaji Sisinthy, LVPEI, Hyderabad, India
Public Health – For the people, By the people
Abhay Bang,
SEARCH, Gadchiroli, India
The Man from the Future – The Visionary Life of John von Neumann
Siddharth Kankaria (NCBS, India)
in conversation with
Ananyo Bhattacharya (Author & Journalist, UK)
Technology in Arts & Culture: Expanding Boundaries of Human Experience
Madhushree Kamak (Science Gallery Bengaluru),
Avinash Kumar (Quicksand Studio),
MSR Murthy (Murthovic),
Lewis Hou (Science Ceilidh),
Sarah Hyder Iqbal (FAST India)
Accelerating Scientific Discovery with Advances in Computing
Sriram Raghavan,
IBM Research AI, USA
Blurring lines: National Security and Our Technology Edge
Mudit Narain (FAST India),
Vrinda Kapoor (3rdiTech),
Udayan Ganguly (IIT Bombay),
Jaya Baloo (Avast Software),
Rahul Seth (Territorial Army and Antler VC)
India's Science Geniuses
Archana Sharma (CERN, Switzerland)
in conversation with
Sonal Katyal (NCBS Bangalore)
Time Crystals: A New Phase of Matter
Vedika Khemani,
Stanford University, USA
Imagining Utopia: Will there ever be a disease-free world?
K Srinath Reddy (PHFI),
Chris Karp BMGF),
Gagandeep Kang (CMC Vellore),
Abhay Bang (SEARCH Gadchiroli)
Mush-room for discussion – How does your brain respond to psychedelics?
Vidita Vaidya,
TIFR Mumbai, India
Stealth Mode Activated – How safe is your internet?
Jaya Baloo (Avast Software, Czech Republic)
in conversation with
Suchitha Champak (SciRio)
Diffusion, Demons and Motors: How Biology and Physics work together
Gautam Menon,
Ashoka University, India
Talk Your Thesis Finale
Hosted by comedian and author Biswa Kalyan Rath
How to build a Bell Labs in India: Can the industry turbocharge our research ecosystem?
Ashish Dhawan (The Convergence Foundation),
Satish Reddy (Dr Reddy's Laboratory),
Hemang Jani (Capacity Building Commission),
Ravi Pandit (KPIT Technologies)