CALL FOR PROPOSALS
India Science Festival 2024
We invite you to participate in the Call for Proposals for the 5th edition of the India Science Festival (ISF), ISF 2024, organised by the non-profit organisation Foundation for Advancing Science and Technology (FAST India). The festival will be held at IISER Pune on 20th and 21st January 2024.
Since its inception in 2020, ISF has established itself as a dynamic and engaging platform to celebrate and explore science in every way possible. Our goal is to inspire and cultivate interest and appreciation of science among young people and the general public. In keeping with our ambition to make science accessible to all, entry to ISF is free and open to everyone.
As we bring together yet another inspiring and captivating edition of the festival next year, we are eager to collaborate with individuals and organisations in India and across the globe, who share our passion. Together, we create a memorable experience for our audience. We welcome proposals and ideas for innovative and unique events related to the festival theme Towards Infinity: Mind, Machines, and the Endless Frontier under the following categories: Workshop, Panel Discussion/Round table, Booth/Stall, and Installation/Performance.
Join us in shaping ISF 2024 by submitting your proposals. Let us come together to promote science and make a lasting impact on our society.
Workshops


ISF features a wide range of hands-on workshops for children and young adults. Submit ideas for organising a unique workshop, preferably on a cutting-edge topic related to the festival theme. The workshop should be designed with a specific target audience in mind and must be highly creative and interactive. The duration of these workshops should not exceed an hour and a half.

Panel discussion/round table


With the goal to catalyse the transformation of the S&T sector in the country and its impact on society, ISF brings together scientists, policy makers, industry experts, thought leaders, and a wide range of stakeholders to deliberate on ideas for advancing scientific research and policy. ISF also hosts constructive debates and discussions on scientific topics of historical and contemporary relevance. Proposals are invited for innovative round tables and panel discussions addressing these areas. The event should result in actionable ideas or recommendations in the form of a white paper or similar outputs. The duration of these events should not exceed an hour.

Booth/stall


ISF aims to not only spark interest in STEM fields among young people and the public at large but also attempts to serve as a platform to nurture and empower them. Submit proposals for booths/stalls preferably with interactive exhibits, which are attractive enough to get people's attention and expansive enough to explain your science/project/initiative to a general audience.

Installation/Performance
While science continues to contribute to the advancement of artistic inquiry and practice, creative art has emerged as a powerful tool to visualise, explore, and demystify abstract/complex ideas and concepts. The harmonious relationship between science and creativity is undeniable. Together, they can provoke, inspire, and engage a wide range of audiences on topics and themes that are often hard to grasp or challenging. ISF, through the merging of science and art, aims to ignite curiosity, stimulate dialogue, and evoke profound emotional responses from the audience.


Submit proposals for exquisite and meaningful collaborations between science and creative art (theatre, street art, multimedia art, dance, music, etc.) that will culminate in captivating performances/installations at the Festival.

Miscellaneous Ideas


Think your proposal can't be confined to the boundaries of the above categories? Have any other creative ideas that need a category of their own? Feel free to shoot your proposals conveying those box-fresh ideas our way.
Application Process
Submit your proposals/ideas for events at ISF 2024 through the online application form by 14th September 2023.
Proposal Structure
We recommend you structure your proposal in the following format in no more than 600 words.
Title of the proposed event:

A tentative title would suffice at this stage.

Introduction:

Establish the context and objective of the event.

Your approach:

Mention the details of how you are going to meet the said objective and how you shall implement the event. This may include props, interactive activities, and strategies for audience engagement.

Value proposition:

Mention what makes your approach/idea/implementation unique, how it connects to the festival theme, and how you think the audience will benefit from it. Even a soft adherence to the theme is acceptable.

Support required from the ISF team:

This includes any consultation/implementation/logistical support that you may need from us.

Previous work: Feel free to add links to your previous work samples to enable us to better gauge your expertise in engaging with the audience
Evaluation
Proposals aligning with the thematic areas of STEM careers, public science, science and art, and science and public policy will be rated highly.

Proposals showing a clear link between your approach and value proposition will have higher chances of acceptance.

Preference will be given to events that demonstrate a commitment to best-practice science communication and providing a high-quality experience to the audience.

Proposals trivialising science or propounding inaccurate or pseudo-science will be straightaway disqualified.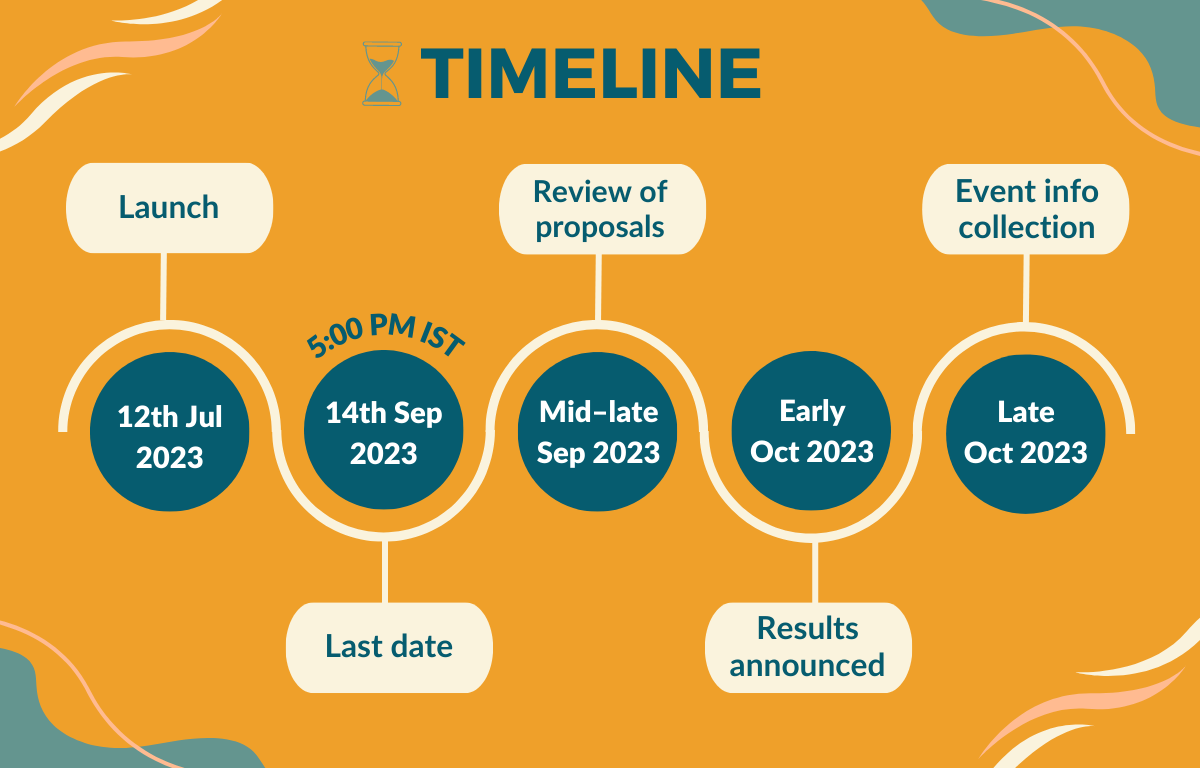 Resources
Need some inspiration to get started on writing a well-organised proposal? You are encouraged to take a look at a few of the successful proposals from ISF 2023 to get a better understanding of how to write a good one!
Important information:
Please note that the submission of proposals does not guarantee inclusion in the Festival programme.

ISF organisers will take care of the travel and accommodation of the organisers and speakers (based in India) invited for the events selected through this call.

Reasonable costs towards consumables/stationery will be reimbursed by ISF organisers after the Festival.

The Festival team will provide inputs for developing the event and the requisite on-ground support to the organisers of the selected events but will not be involved in conducting the event at the Festival.
Frequently Asked Questions (FAQ)
● What type of audiences can I expect at the festival?
The festival is designed for young adults who are currently pursuing their Bachelors/Masters/PhD/Postdoc degrees in STEM and also those from non-STEM fields. However, the audience may also include people from all walks of life at the festival.
● Who is eligible to submit proposals for the India Science Festival?
Anyone with a great idea can submit their proposal. Researchers or academics from universities, colleges, or other academic institutions based in India. Professionals from non-profit organisations, government institutions, industry, non-academic organisations: science museums, observatories, policy/advocacy-related entities, professional societies, research labs, organisations engaged with sustainable development activities and/or global change, animal protection/ welfare. This is not an exhaustive list.
● Can I submit a proposal if I don't live in India?
You absolutely can – although if selected, you would be required to organise your own travel and take care of your expenses.
● What activities can I propose under the call for proposals for the India Science Festival?
Proposals can be submitted under these categories – workshop, panel discussion/round table, booth/stall, installation/or performance. Applicants are also welcome to submit proposals apart from the aforementioned categories as long as they align with the evaluation criteria mentioned above.
● Will the ISF organisers bear the costs of organising the event(s)?
ISF organisers will only make arrangements for the travel and accommodation of up to two organisers and speakers per event shortlisted for the festival.
Expenses for all events will be reviewed by the festival organisers.
The duration of stay for the organisers/speakers will depend on the schedule and duration of the proposed event (workshop, panel discussion, etc.).
Reasonable costs for consumables/stationery will be reimbursed by ISF organisers after the Festival. The estimated budget details should be included in the proposal.
● Will any changes be made to the proposed event by the organisers if selected or will the event be executed as proposed?
The event organisers, in consultation with the applicant, can and will modify the event so that it is in line with the festival theme, objectives, and values and has the maximum impact on the audience.
● Are applicants allowed to submit more than one proposal?
Yes, an organisation/researcher/entity can submit more than one proposal if they are distinctly different.
● Can more than one applicant pair up in a joint proposal?
Yes, individuals/organisations can submit joint proposals. However, ISF will only support travel and accommodation of up to two organisers/speakers per proposal.
● If selected, will I be responsible for publicising the event?
While the ISF team will take care of the publicity, you are encouraged to promote the event through social media and your network.
● Should we find our own funding/sponsorship to run the event at the festival?
Seeking your own funds is desirable, however, not necessary, nor will it impact your application. Funds/sponsorship raised by the applicant need not be given to ISF and can be used by the applicant as deemed appropriate for the proposed event. The funders/sponsors of the event will be acknowledged as ISF sponsors.
● Can we submit a proposal for an online event? If so, how many people can we let take part in our online event?
Yes, you can submit a proposal for an online event/workshop/talk, keeping in mind that it should not exceed 2 hours. You are required to mention the same in the application form, along with the number of speakers for the event. There is no limit to the number of attendees for the online event.
● Can we submit proposals for more than one online activity/event?
Yes, you may submit proposals for more than one online activity/event as long as they are distinctly different.
● What is the deadline for proposal submission?
5:00 pm IST, 14th September 2023
● If my proposal doesn't get selected, am I allowed to pitch this idea to another organisation for a different event?
Yes, if your proposal is not selected by ISF, please feel free to pitch it to other funders/organisations/events.
● Will I automatically become a sponsor if my proposal is selected?
No, but you are welcome to fund/sponsor any event/activity at the Festival. Write to us at indiasciencefestival@fast-india.org for more details.