.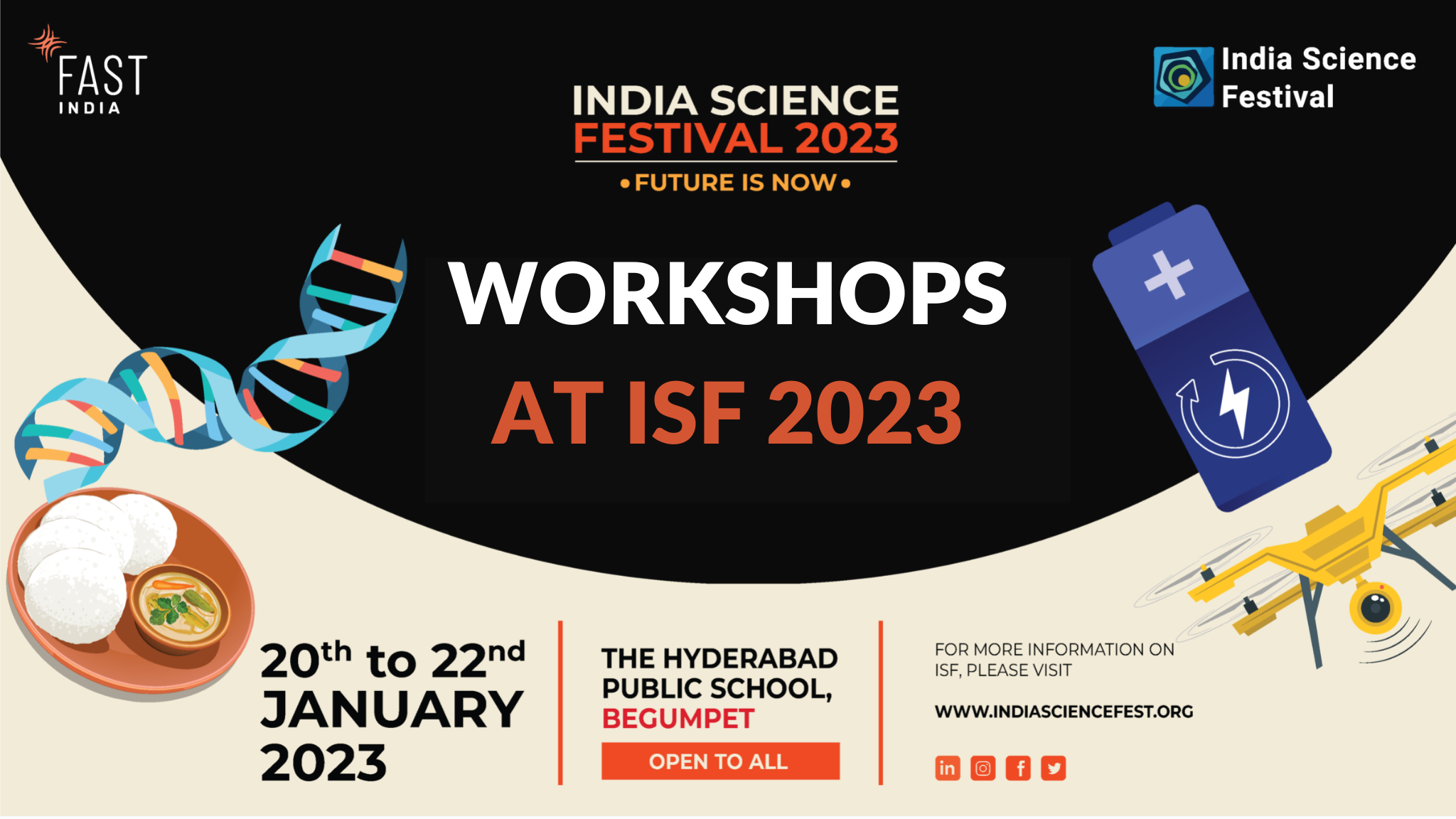 Hands-on workshops and demonstrations at ISF 2023 have been designed to ignite curiosity and provide experiential learning for young minds at the festival! From neuroscience to AI to gene editing to zine making, our workshops are all about making science more engaging and fun!
Registrations begin shortly, our workshops have limited seats only.
Beyond Colored Liquids and Coats | Workshop and Demonstration at ISF 2023
Workshop Facilitators:
Talk to a Scientist
Dr Karishma S Kaushik, MBBS, MD, PhD
Shreeya Mhade, BSc-MS
Sai Supriya Avatapalli, BS-MS
Date and time: 21st January, 10 am to 2 pm IST
Duration: 4 hours
Open for: Young minds (8-16 years), families, educators, parents
Maximum Seats:
Hands on Workshop: 30
Demonstration: 50
In the workshop 'Beyond Colored Liquids and Coats: What do Real Scientists do?' TTAS will demonstrate two major science concepts with LIVE simple and easy-to-do experiments. The topics covered will be:

Hands-on (done by the students with the instructors): Microbes and Antibiotic Resistance: Building a simple model to mimic antibiotic testing in the lab.

Live Demonstration (done by the instructors but with interaction and engagement with the students): Climate Change: Building a tabletop model to mimic climate change in glaciers.
These sessions have been built and conducted by TTAS as part of their webinar-based outreach, and are published in the TTAS 'Hands-on Science for Young Minds' E-book. Information about TTAS and the recent hands-on science e-book for students, teachers and families to use in the future, will also be shared in the workshop.
The Global Coin Experiment
Workshop Facilitator: Royal Society of Chemistry
Date and time: Multiple sessions across 21st and 22nd January
Duration: 1 Hour
Open for: Young minds (10-13 years)
Maximum Seats:  30  (in each session)
Multiple sessions of the experiment will be conducted across the festival.
To tackle our growing climate crisis, we need to move away from fossil fuels and embrace electrification. A crucial part of this journey is bigger and better batteries; we need them to be a sustainable storage solution to ease our energy transition.
Taking part in our global battery experiment will give you the opportunity to explore the science behind batteries – and why they are such an important part of our bright energy future.
S.T.E.A.M Idlis! Eat to your He"Art"s content
Workshop Facilitator:
Supriya Devarajan (PhD), Scientist; MacDermid Alpha Electronics Solutions
Date and time: 21st January, 11 am to 1 pm IST
Duration: 1.5 Hours
Open for: Young minds (8 to 14 years)
Maximum Seats: 20
An interactive session sharing the S(cience), T(echnology), E(ngineering), A(rt) and M(ath) that goes into the making of this wholesome, fermented, south Indian staple. The workshop will consist of an idli facts-related crossword puzzle. The answer to the questions will lead to activity. For example, if we talk about the bacteria that cause the fermentation of idli batter (the Science), the children can look at the microbes under a microscope. They can try their hand at grinding batter using a traditional grinding stone after answering a question on the materials used to grind the batter (the Technology).
While this workshop is primarily targeted towards primary and middle school kids,  adults and families are welcome too.

Aryabhata Square Roots Algorithm
Workshop Facilitator: R Gopu;

Varahamihira Science Forum
Date and time: 22nd January, 12 pm to 1 pm IST
Duration: 60 minutes
Open for: Young minds (13 years and above)
Maximum Seats: 40
Schools around the world use the Indian numeral system, but don't mention Indian mathematicians or the mathematical techniques they invented. Aryabhata is wrongly believed to have discovered zero. But Aryabhata gave the world algorithms for square and cube roots, that exploit the place value system, and a fundamental understanding of algebra, which almost no school or college teaches.
In this workshop, we will demonstrate both these algorithms, explain the fundamental logic behind them, and guide attendees to compute square and cube roots using Aryabhata's methods.
Electro-kids!
Biotential Signals with UpsideDown Labs
Workshop Facilitator: Upside Down Labs –

Deepak Khatri (Founder), Bhawna Sehgal (CoFounder)
Date and time: 21st January, 12 pm to 1 pm IST
Duration: 2 hours
Open for: Young minds (13 years and above)
Maximum Seats: 25
Electro-kids, welcome to a workshop there you get:
1. An introduction to biopotential signals
2. A demonstration of electrode placements to record various biopotential signals from your body
3. A chance to record and visualize various biopotential signals
4. A peek into understanding real-world applications of these signals
DNA Origami Workshop
Workshop Facilitator: Bharath Atthe, Ashish Bihani and K Phanindhar, CSIR-Centre for Cellular and Molecular Biology
Date and time: 21st January, 2023, 11 am – 12 pm
Duration: 1 hour
Open for: Young minds (13 years and above)
Maximum Seats: 20
Come join us as we build DNA using paper origami while you have scientists who can explain you what DNA is made up of, and how and why is it shaped like a double helix. Have fun with us with a lot of coloring and paper folding and asking your questions around DNA.
Innovation in Eye Care: A Hackathon
Workshop Facilitator: LV Prasad Eye Institute
Date and time: 22nd January, 10 am to 12 pm IST
Duration: 2 hours
Open for:
20 years and above (college students/start-ups)
Maximum Seats: 20 Teams (2-4 members per team)
The L V Prasad Eye Institute (LVPEI) and L V Prasad Eye Innovations are delighted to invite young delegates of India Science Festival 2023 to a 'mock' hackathon on innovating in eye care. We invite teams of engineers, product designers, developers and programmers to help solve pressing problems in eye care.
Nearly 150 million Indians have vision impairment. Most of them need a pair of spectacles. Around the world, over 1 billion people have never had an eye exam. How can technology help us take eye care closer to the millions of people who need it? How can we harness AI/ML and other emerging platforms to turbocharge eye care?
If you have products, solutions or ideas—join us at ISF 2023! We invite up to 20 teams of young professionals keen to make a difference.
Please fill out the registration form ASAP with details on how you want to address at least 1 of the 5 problem statements listed below.
Problem statements:
1. How can smartphones bring eye care to everyone?
2. Can doctors get retinal images using a smartphone
3. Removing last-mile access issues to eye care, using technology
4. AI/ML-based improvement in eye care/ eye care diagnostics
5. How can we deliver eyecare education cum follow-up for patients?
If you are selected, you MUST bring a product display or a poster, or a test product—or a combination thereof to the event. It will boost your chances!
Introduction to Brain Computer Interfaces
Workshop Facilitator: Abishek Kannan, Marketing Head NTX India Chapterapter
Date and time: 22nd January, 3 pm to 4 pm IST
Duration: 60 minutes
Open for: Attendees aged between

15 to 30 years
The workshop will focus on Brain Computer Interfaces and how it is being used for various applications and its future potential in various areas of technology.
A demo of the OpenBCI headset will be shown to the audience along with its working principles and usages. 
The workshop will focus on worlds trends on BCI devices with real world examples. 
Beyond Gene Editing: How FELUDA meets CRISPR
Workshop Facilitator: Debojyoti Chakraborty
Date and time: 22nd January, 2 pm to 3.30 pm IST
Duration: 1.5 hours
Open for: Young minds (8-13 years)
No pre-registration required. 
How did a paper-strip test end up detecting the presence of SARS-COV-2 virus? By using CRISPR-Cas technology, that's how!
Watch a fascinating demonstration on gene-editing, conducted by IGIB scientist Debojyoti and his team, only at ISF 2023!
Philosophy of Science through Zines
Workshop Facilitator: Ipsa Jain (Srishti Manipal Institute of Art, Design and Technology) & Jyotsana Dhawan (Emeritus Scientist, CCMB – Hyderabad)
Date and time: 22nd January, 2 pm to 3.30 pm IST
Duration: 1.5 hours
Open for:
Young minds (8-16 years), families, educators, parents
Maximum Seats: 50
Listen to interesting stories by scientist Jyotsana Dhawan and make fun zines based on your understanding of the session!
Un-Lab: The Zine Making Workshop
Workshop Facilitator:
Ipsa Jain (Srishti Manipal Institute of Art, Design and Technology)  
Date and Time: 21st January, 1-2 pm IST
Duration: 60 mins
Open for: Young minds (10 years and above)
Maximum Seats: 30
The world of science, art and storytelling come together at Ipsa Jain's zine making workshop. Join us to explore sci-art, only at ISF 2023!
Citizen Science: Developing experiments with affordable tools 
Workshop Facilitators:  Jithin BP (Founder, CSpark) & Praveen Patil (Science Communicator and College Educator).
Date and time: 21st January, 3 pm to 4 pm IST
Duration: 1 hour
Open for: Young minds (13 Years and above)
Maximum Seats: 20
"In spite of the riches unearthed by Big Science in the fields of biology and physics during the last fifty years, historically speaking much of scientific progress has come from small groups or individuals working with relatively cheap equipment and resources"
While the earliest scientists used their 5 senses to observe and understand nature, the pace of technology helped facilitate and improve science, with computers and sensors becoming commonplace tools for scientists. However, most research labs still struggle with high costs of dedicated sensory data collection tools in spite of the same functionality being integrated in cheap consumer goods.
—-
This workshop will involve a series of simple science demonstrations and hands-on activity with DIY tools and sensors, and an affordable control and measurement tool called SEELab3(csparkresearch.in/seelab3) . These will touch upon topics such as acoustics, electromagnetism, atmospheric pressure, and magnetic fields, and we'll demonstrate the power of scientific data analysis tools such as Scipy which help extract meaningful information from signals.
Participants(Groups of 2) will be provided with the data collection instrument, and miscellaneous accessories such as resistors/capacitors/diodes/solenoids/sensors(Pressure, Temperature, Humidity, Magnetic Fields, Distance …) .
We'll be sticking to scratch-based programs for data collection, so no coding knowledge is required.
Making a new molecule, without ever going into the lab!
Workshop Facilitators:  Robo RXN
Date and time: 22nd January, 4 PM – 5 PM
Duration: 1 hour
Open for: 
Maximum Seats:
Synthesizing and testing a new material is often the biggest bottleneck in the discovery process. On top of requiring whole teams of devoted technicians, it can take years to identify and produce the appropriate chemicals, conditions, and reactions to properly carry out the synthesis. Once you've decided on what you want to make, the next step is determining the appropriate ingredients and recipe. It's a matter of figuring out the right sequence, conditions, and ratios to bring everything together.
IBM's RoboRXN, a cloud-based AI-driven lab, cuts through these obstacles by efficiently automating a majority of the initial groundwork in materials synthesis, making it possible for scientists to synthesize materials remotely. Simply upload the desired material cloud, and the system will use an AI model to break the molecule down into a chemical recipe, while also identifying a set of commercially available ingredients to be used in the synthesis process. Automatically executed by a robotic autonomous lab, in minutes the drafted molecule becomes a reality.
It once took decades to find out how to synthesize a new material; AI accelerates every step of this process, from conception to execution. Synthesizing a new material is now as easy as baking!
Taking a deep dive into your fingerprints 
Workshop Facilitators:  Chandana Basu, DBT/Wellcome Trust India Alliance Early Career Fellow, Centre for Genetic Disorders, BHU, Varanasi
Date and time: 22nd January, 1 pm to 2 pm IST
Duration: 1 hour
Open for: Young minds (12 Years and above)
Maximum Seats: 50
Participate in a fun activity where participants get the golden opportunity to identify their fingerprint pattern. Join Chandana in a fun session and dive into the world of genes through stories, comics and colorful illustrations!