Embarking on a SciComm journey!
My experience from working at the India Science Festival
– By Khushi Goel
Have you ever been so involved in something that you forget about everything else?
Something that constantly plays on your mind, but you thoroughly enjoy it and would do it again, in exchange for nothing? This is a feeling I experienced, every single day – for five months while working with the FAST India team at the India Science Festival (ISF) 2023. 
I joined FAST as a part-time intern in late August 2022. This was my first internship, and I was a little anxious. I had a zillion questions in my mind. What would my colleagues be like? Would I be able to fit in? Would I be able to manage my internship along with my college studies and extracurriculars?
The only thing that I was clear about – I wanted the experience, and I'll make the most out of it. 
I have visited several science fairs as a school student but this was different. This time, I was not going to be a participant. I would be on the other side, involved in the planning and execution of a grand celebration of science and technology – the India Science Festival. I was thrilled to start my new role. 
On Day 1, when I walked into the office I experienced a form of energy which immediately put me at ease. I spent the initial few hours reading the documents provided to me by the SciComm team. Then we sat down, the four of us – Dr Sarah Hyder Iqbal (Consultant, FAST India), Shruti Sunderasan (Program Manager, SciComm Vertical, FAST India), Utsav Thapliyal (Program Associate, SciComm Vertical, FAST India) and me, Khushi Goel (the new intern). Together, we formed the 'Team ISF'. 
I was briefed about what's expected of me as an intern, and what tasks and responsibilities I can take over.To be honest, all this felt a little overwhelming initially but eventually it got better.  With a mutual consensus, it was decided that I'll take charge of ISF's social media handles first, and would subsequently assist Utsav in promoting the three flagship competitions: Spin Your Science, Talk Your Thesis, and Science In Focus. There was another task which I was highly unsure about – managing ISF's website. 
I had managed social media earlier, but I had no prior experience in managing a website. That's where the challenge began. As an introduction, Shruti gave me a 20-minute crash course on "How to manage websites through WordPress" and left the rest to me. In the next few days, WordPress turned into a game for both of us. We started playing around with the features which proved to be an interesting way to understand the software. We were able to figure out the most part and whenever we stuck or messed things up, we would ask for help. After a few days into the work, I started enjoying updating the website. When the event started coming together, and we put out the schedule, it felt so surreal!
I co-hosted an online interactive session for ISF's flagship competitions, with Utsav. We planned the session, invited our speakers, put together a script, rehearsed for it, and eventually hosted it with a lively audience. I got the opportunity to interact with Dr Shannon Olsson (Global Director, Echo Network) and Peter Cowdron (Science Fiction Writer) on a Zoom call. 
I was also given the responsibility of managing website registrations and updating our mailing lists. 
With such a wide variety of tasks, everything I did at ISF felt like an opportunity to acquire a new skill or improve an existing one. 
And right when I thought my internship experience couldn't get better than this, I boarded a flight and flew to Hyderabad, the city where the India Science Festival 2023 eventually took place. I reached the festival venue, The Hyderabad Public School, Begumpet on 17th January 2023. 
That's when the real hustle started. 
The SciComm team was already on campus and the other team members were arriving as per their prescribed schedules. The ISF team which comprised three people initially (Sarah, Shruti, and Utsav) now had 15+ people.
We were all assigned responsibilities, our schedules were jam-packed with pre-festival, main festival and post-festival events lined up one after the other. There were numerous excel sheets with SO many drafts of the program schedule, with briefings, meetings and events happening simultaneously at different places. Given the intensity of work and labour everyone was putting in, we anticipated ISF will leave us all exhausted and sleep-deprived. But the exact opposite happened. The environment in the guest house was unexpectedly energised and enthusiastic, with everyone determined to make ISF 2023 a success – which it eventually turned out to be. 
Working online with the organising team from New Delhi was fun, whereas working on-field in Hyderabad was super adventurous. ISF, for me, was a mix of so many emotions!
I remember once experiencing an adrenaline rush rushing to the market to buy workshop consumables, and soon the adrenaline changed to nervousness when I was unable to find combination locks for a task in our mystery rooms! At one point, I needed to urgently find a laptop and monitor for a STEM booth and was running all over to source it!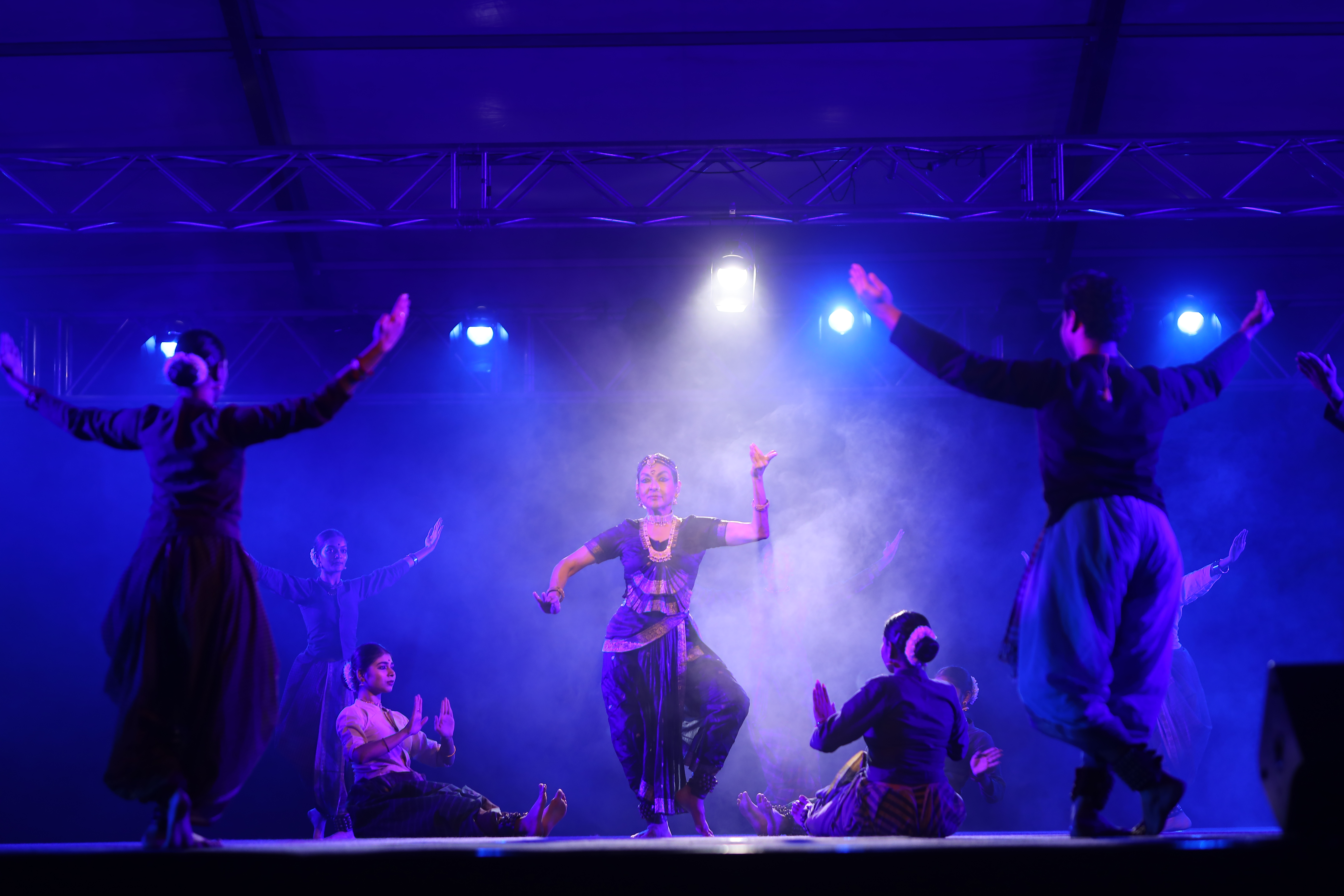 I remember experiencing a chill down my spine on watching the "The Dance of Life" performance by the Darpana troupe.
Whenever I saw a student or young participant smiling at the festival, enjoying their time there, I felt content and happy, thinking, perhaps this child will not grow up to hate science as a subject.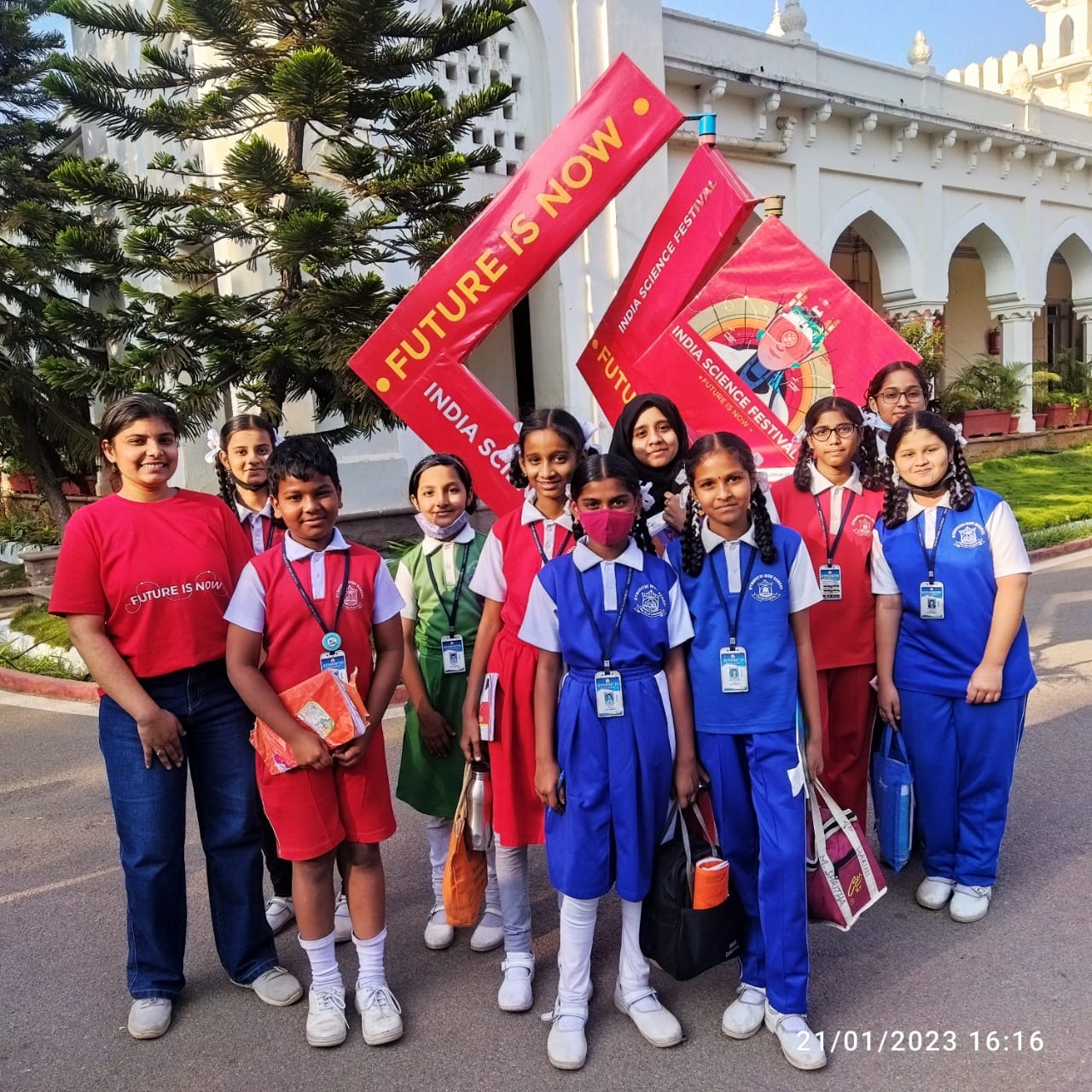 I juggled multiple tasks together, which included managing the workshops, coordinating across teams, managing volunteers, interacting with speakers and despite the exhaustion, I had so much fun! I can never forget the three days of the ISF 2023 in Hyderabad, I was lucky enough to witness as an insider – the inaugural dinner hosting prominent personalities from all across the globe, the talks, panel discussions and interactive sessions taking place simultaneously across multiple venues, the exhibits displayed at the festival, STEM booths, workshops and last but not the least, the audience!
I was given a huge responsibility at a very initial stage in my career. This made me realize that showing initiative and working enthusiastically really has its benefits!
I would always be grateful for this opportunity and to work with the team that constantly made efforts to ensure I get more out of this experience. The highlight for me was that I didn't only learn by working, I learnt through observation as well. The passion that the team put on the table towards the cause of science communication, encouraged me to do better. 
Combating self-doubt and applying for this internship has been one of my wisest decisions. 
There is so much you can do by just putting yourself out there. Had I not taken the leap and applied for the internship, I would have never realised that there is a way to live all my dreams. I can be a scientist, an event planner, an educator, a website designer, a journalist, all at once – through a single, multi-faceted role.
If you are a confused undergrad like me, who loves science and would like to explore it outside textbooks, you must experience ISF at least once. Take my word, you won't regret it!