Bringing Science to Life And Inspiring the Next Generation at ISF 2023
The 4th edition of the India Science Festival was held in Hyderabad from January 20–22, 2023, and was organized by FAST India in partnership with the Government of Telangana through the Telangana State Innovation Cell (TSIC). The festival was a mesmerizing showcase of talks, discussions, exhibits, and rousing celebrations of science and technology, featuring a diverse array of individuals and organizations from India and beyond.
After two years of organizing ISF online due to the COVID-19 pandemic, the Foundation for Advancing Science and Technology (FAST India) came back with a bang, hosting the highly-anticipated 4th edition of the India Science Festival (ISF 2023) on-ground. Teaming up with the Telangana State Innovation Cell (TSIC), the festival took place at the prestigious Hyderabad Public School (HPS), Begumpet, from January 20th to 22nd, 2023, with a variety of pre- and post-festival events at other venues in Hyderabad and Delhi. 
This year's edition was a thrilling celebration of science and technology, attracting over 18,000 science enthusiasts from across Telangana and the nation. Themed around 'Future Is Now', the festival was a vibrant platform to delve into the impact of science in our daily lives and its implications for the future.
In addition to HPS, the festival events were held at multiple venues, including the Birla Science Centre and Planetarium, Hyderabad, Government of Telangana Social Welfare Schools, Qutub Shahi Tombs, TIFR Hyderabad, National Science Centre (New Delhi), and Ashoka University, Sonepat. ISF 2023 partners included Microsoft, Dr Reddy's Laboratory, CSIR-Centre for Cellular and Molecular Biology (CCMB), TIFR Hyderabad, DBT-Centre for DNA Fingerprinting and Diagnostics (CDFD), LV Prasad Eye Institute (LVPEI), ICMR-National Institute of Nutrition (NIN), British Council, Royal Society of Chemistry, SkyRoot Aerospace, Science Made Simple (UK), Luma World, and Aga Khan Trust for Culture, among others. 
Bringing Together Luminaries from Science, Technology, and Beyond
The festival brought together a remarkable lineup of over 100 speakers, including renowned experts from institutions such as MIT, Stanford University, the European Space Agency, IITs, IISERs, AIIMS, TIFR, Ashoka University, and many more, and hosted a diverse array of events, including popular science talks, panel discussions, fireside chats, interactive workshops, film screenings, roundtables, science exhibitions, electric performances, games, and competitions. Find here the list of ISF 2023 speakers.
The festival's inaugural event on 20th January sparked inspiration with a lineup of influential voices from research, academia, industry, and government, including Prof K Vijay Raghavan (former Principal Scientific Adviser to the Government of India), Prof K Srinath Reddy (former President and Distinguished Professor, Public Health Foundation of India), Dr Archana Sharma (Senior Scientist, CERN, Switzerland), Mr Ashish Dhawan (Founder, Ashoka University and FAST India), Mr Varun Aggarwal (Founder, FAST India and ISF), Dr Shanta Thoutam (Chief Innovation Officer, TSIC), Dr Madhav Deo Saraswat (Principal, HPS Begumpet) and Mr Gusti J Noria (President, HPS Society). The diverse panel of experts highlighted the crucial role of science and technology in shaping a better future for our country and the world as a whole.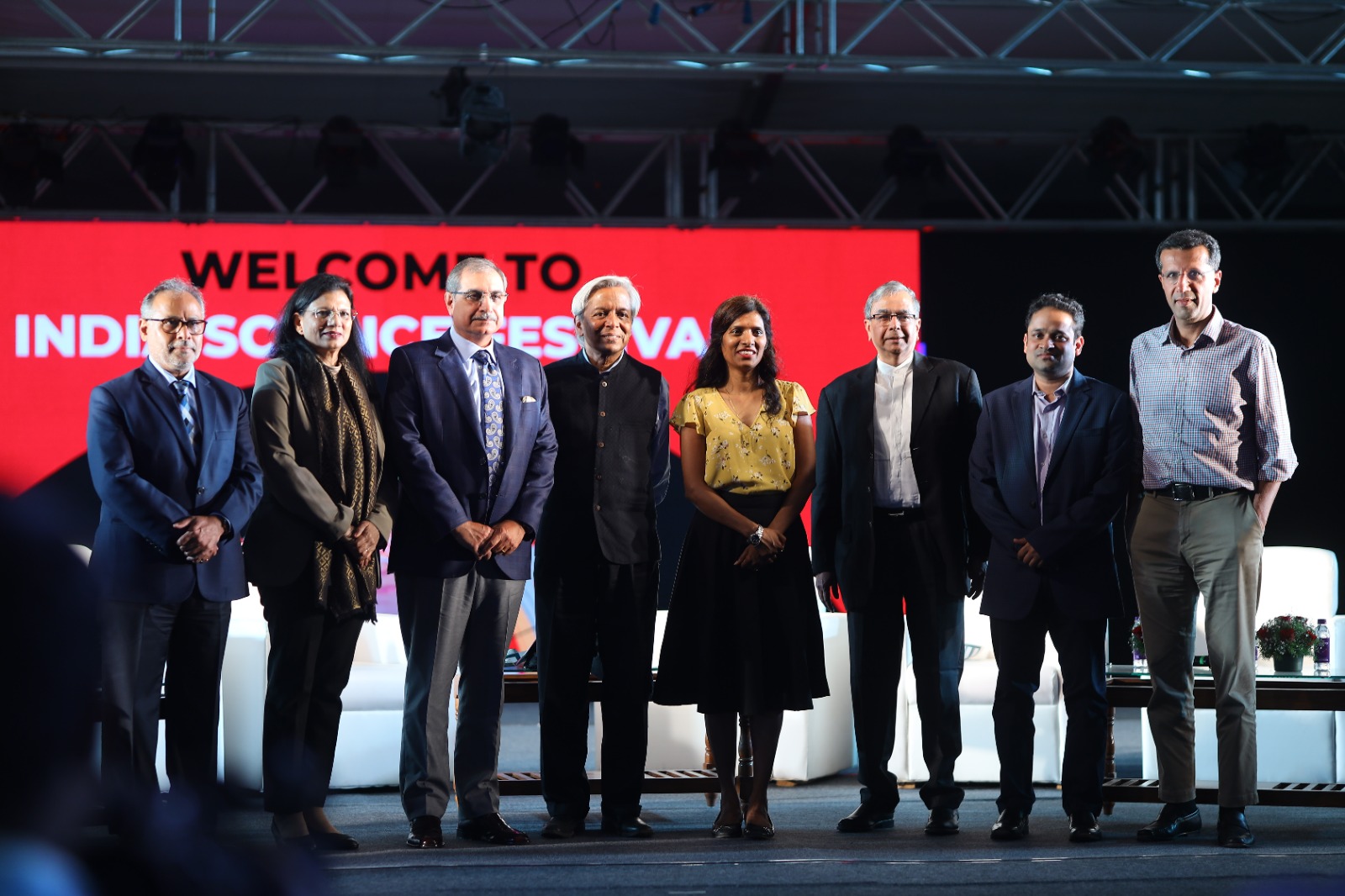 One of the highlights of the inaugural event was a special performance titled 'The Dance of Life' by Padma Bhushan awardee Dr Mallika Sarabhai and her troupe at the Darpana Academy of Performing Arts. The intricate and captivating performance charted India's rich scientific heritage, taking the audience on a journey through time, from the ancient genius of Aryabhatta and Bhaskaracharya to the discovery of Zero and Meru Prasthana, better known as Pascal's triangles, to Jehangir's experiments and research into ornithology. Choreographed by Mrinalini Sarabhai, the dance brought to life India's fascinating history of science and innovation.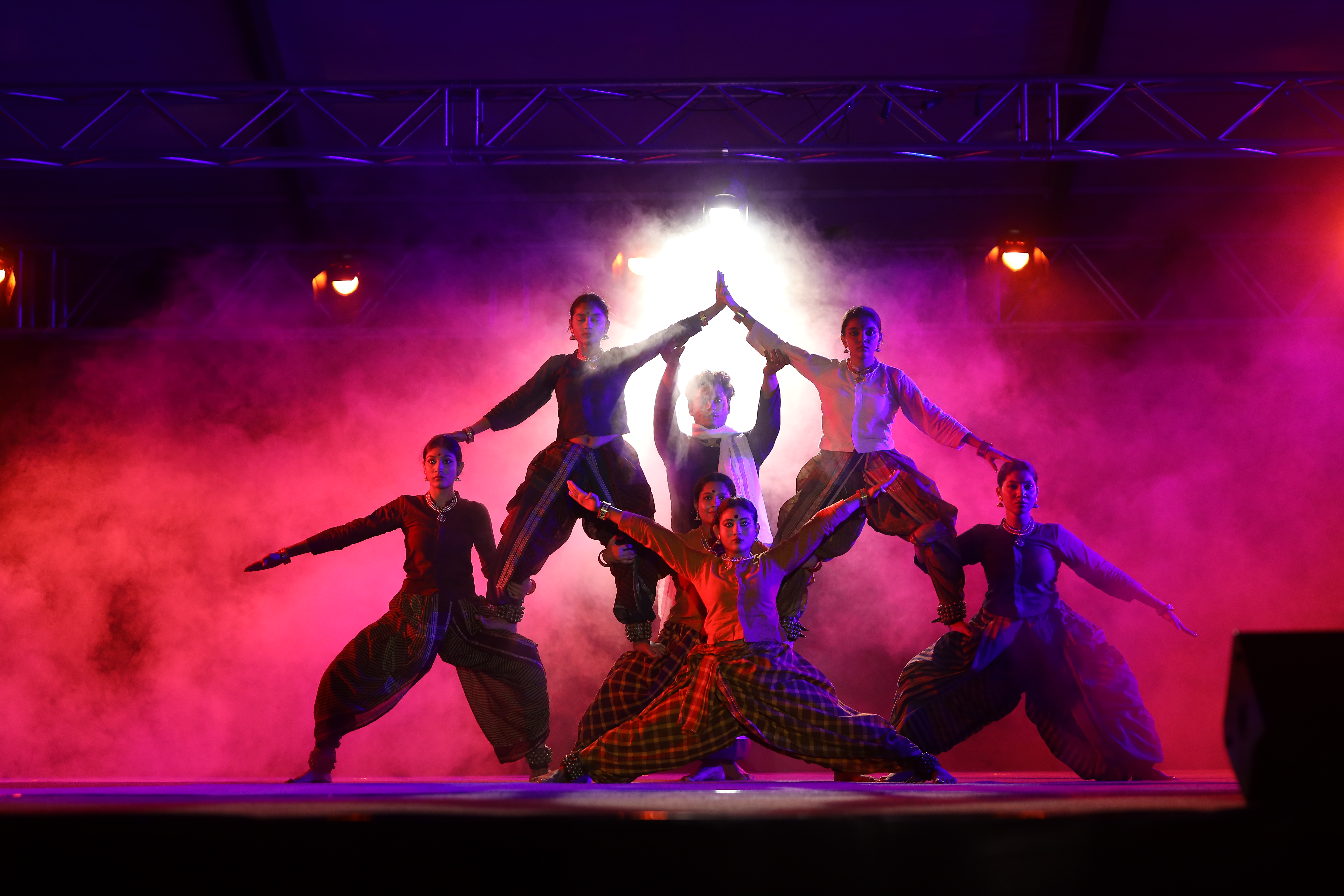 Science in Action at Booths, Workshops and Exhibits
The science enthusiasts at the festival were given a unique chance to delve into cutting-edge advancements in fields such as artificial intelligence, machine learning, robotics, genomics, neuroscience, space research, healthcare, stem  cell research, drone technologies, computing, nanotechnology, and climate sciences. By connecting with top experts in these fields through engaging talks and panel discussions, attendees broadened their knowledge and understanding of the latest breakthroughs in these exciting areas.
In the festival's interactive zones, young festival-goers had the opportunity to connect directly with scientists, researchers, entrepreneurs, innovators and science educators. Whether it was taking a stroll in the park with a neuroscientist and a wildlife artist, learning the fundamentals of coding, or exploring the mysteries of the sun with a DIY spectrometer alongside a chemist, attendees were treated to a diverse range of science experts and topics.
"I never thought that science could be so much fun and come in so many different forms." Festival attendee (Age 14)
"The atmosphere at ISF 2023 was electrifying! Science students, researchers, and professionals came together under one umbrella to talk, ideate, and collaborate for the unified purpose of communicating and disseminating science. You had to be there to experience it! Kudos to the ISF team and FAST India for an excellent initiative to inform and inspire about the potential of STEAM in India!" Dr Pialy Ghanekar (Founder – Cell Savvy Group)
ISF 2023 hosted a plethora of interactive STEM experiences through interactive booths that captivated visitors, from delving into the mysteries of infectious diseases and genomics to venturing into the multiverse of the eye and exploring DIY neurotechnologies, not to mention the electrifying robotics zone, featuring drones. These engaging STEM booths provided a unique opportunity for visitors to immerse themselves in the cutting-edge world of science and technology, discovering its practical applications and contemplating its wider social impact. A list of booths at the festival can be found here.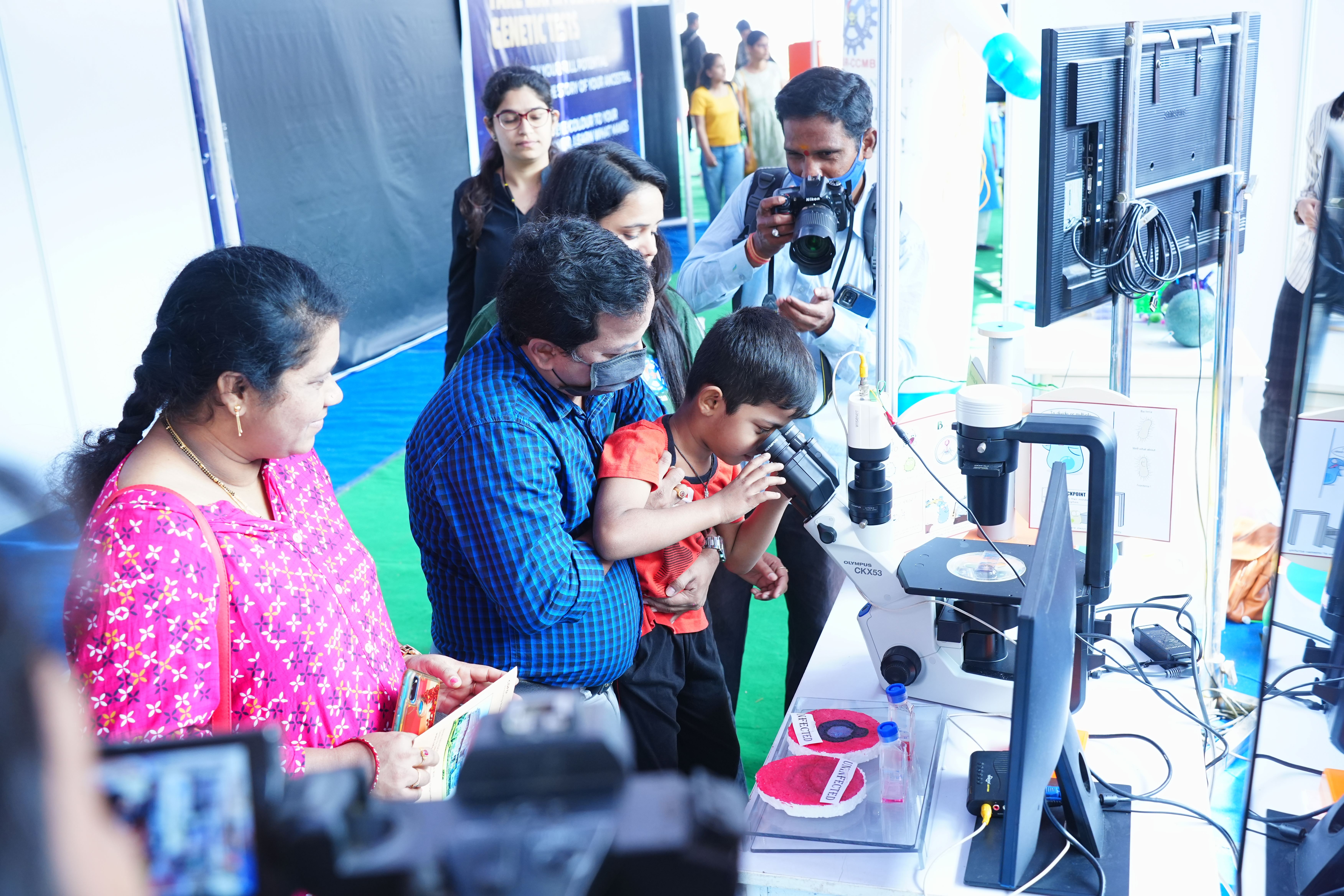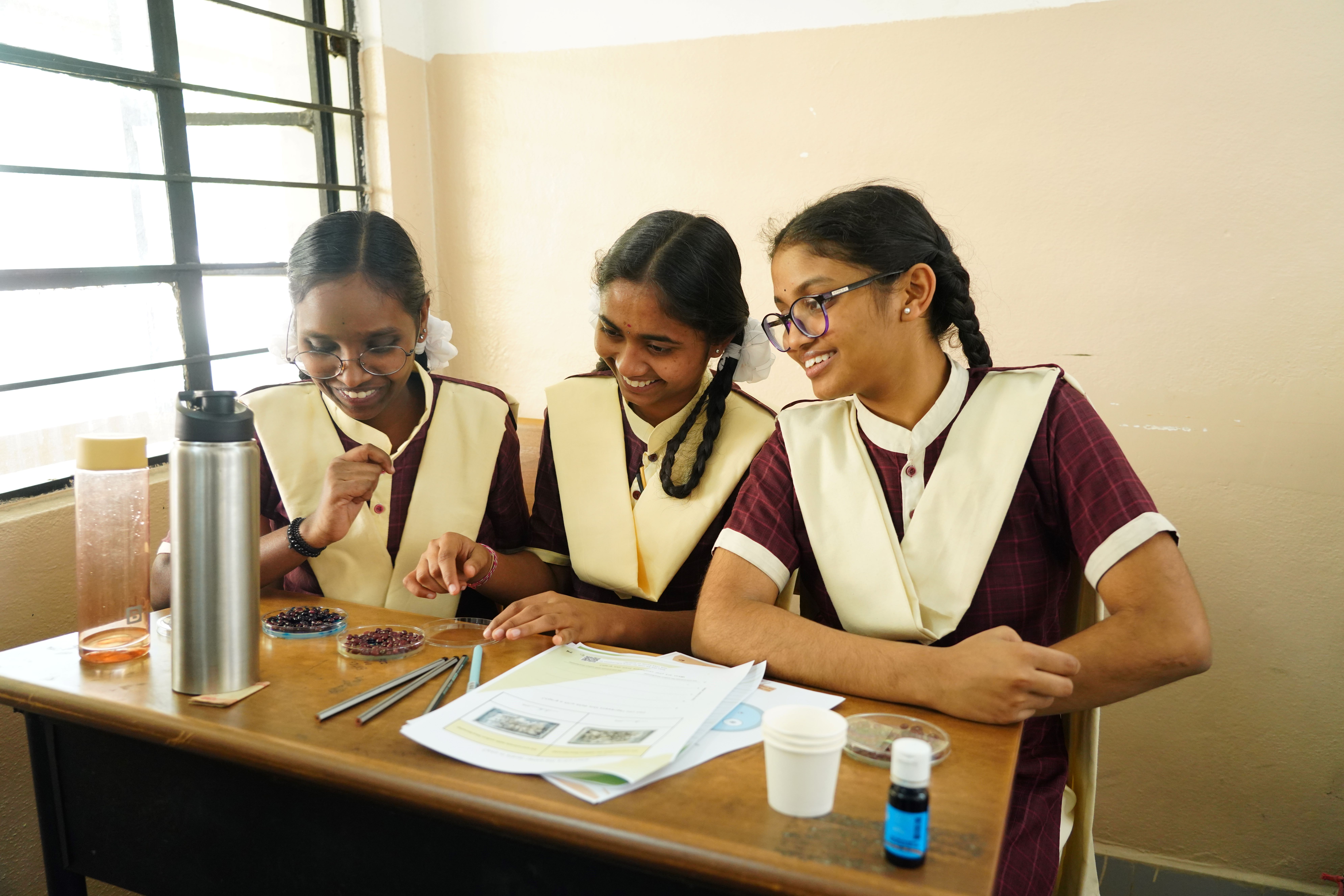 The festival also offered a chance for visitors to immerse themselves in hands-on workshops exploring cutting-edge subjects like genomics, brain-computer interfaces, and even creating their own coin batteries. These unique opportunities provided a deeper understanding of science through practical experimentation, allowing visitors to experience the thrill of scientific discovery and sensemaking. A list of workshops held at the festival can be found here.
The interactive exhibits at the festival were a major attraction for visitors of all ages. From the participatory periodic table 'Bring Your Own Elements' by Science Gallery Bengaluru to the soaring model rocket by Skyroot Technologies, there was no shortage of awe-inspiring exhibits. Adding to the creativity of the festival were the stunning science-inspired murals, created by designer Dibyush Jena and HPS school students, and India's largest outdoor wind chimes, rhombus and invisible batman sculptures, and story boxes  by city-based DoScience. Ipsa Jain and Debanshu Bhaumik's timely exhibit '(be)living science' helped visitors explore their relationship with and trust in science through a variety of interactive displays. The festival showcased the talents of science enthusiasts and attendees, with eye-catching science-themed photographs submitted to the Science in Focus competition and mesmerizing science-themed traditional Cheriyal art paintings created at a pre-fest event.
The festival also allowed attendees to unleash their creative sides through games and activities such as the STEM scrabble, Draw Me Some Science art competition, and the zine-making  workshop encouraged visitors to bring their ideas about science to life. The interactive zone was buzzing with excitement with David Price's exhilarating science busking performance and interactive sessions with ICMR-NIN scientists and Rachel Mason of Science Made Simple, who made science look engaging and endlessly entertaining.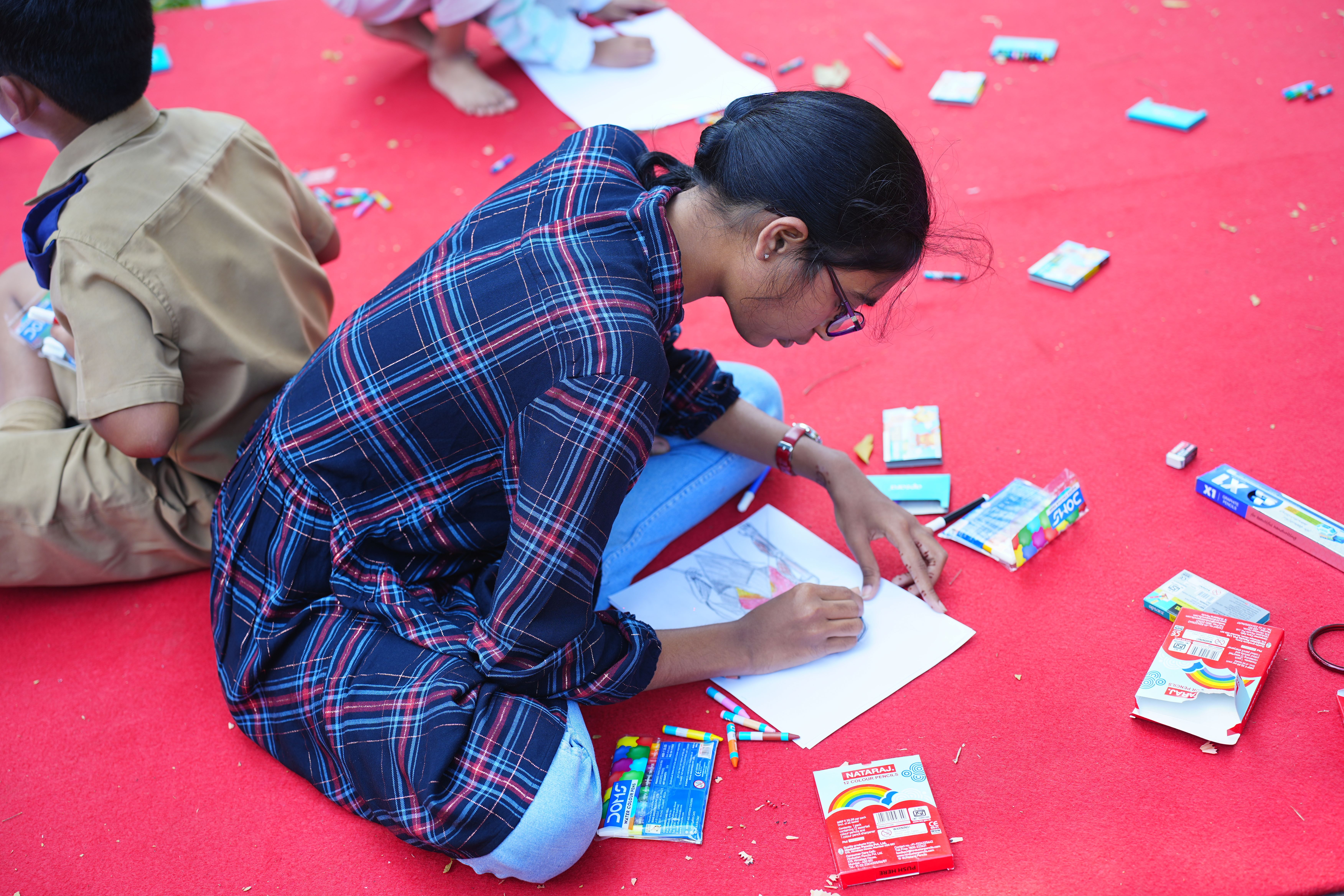 Exploring Science Through Art and Culture
Just like books are an integral part of our educational and intellectual journeys, they were an integral part of the festival too. A diverse range of book talks was  held, featuring renowned authors such as Ananyo Bhattacharya, discussing his book The Man from the Future: The Visionary Life of John Von Neumann, writers and scientists, Pranay Lal unpacking his book Invisible Empire: The Natural History of Viruses, and Archana Sharma exploring India's Science Geniuses, lastly, Aniket Agha delving into his recent book Genetically Modified Democracy. Each talk provided a unique perspective on science and technology and sparked thought-provoking discussions among attendees.
The festival also saw the launch of FAST India's Science Book Fellowship, a novel initiative to promote books on science in India. 
As one attendee noted, "the festival was truly a feast of engaging experiences. Where one idea of science ended, another emerged." ISF 2023 featured a thrilling edition of 'Talk Your Thesis', ISF's flagship science communication competition for Master's and PhD students and postdocs, hosted by the popular comedian and writer Biswa Kalyan Rath. The festival also brought together film producer Siddharth Roy Kapoor and Mallika Sarabhai for a fascinating discussion on the depiction of science in Bollywood films, while a screening of the science film 'The Astronaut and His Parrot' and a captivating fireside chat with its writer and director, Arati Kadav added to the excitement. The festival was electrified by a performance of the festival theme song by 'The MaaHaa Project' and a spellbinding audio-visual performance, 'Elsewhere in India', by Hyderabad-based artist Murthovic and Thiruda (Avinash Kumar), that transported audiences to a never-before-seen world of cultural science fiction.
Celebrating Scientific Contributions, Igniting New Ideas
The festival wasn't just a celebration of science but also a tribute to the outstanding achievements of people in science. FAST India recognised and celebrated the lifetime contributions of Padma Shri awardee, Prof D. Balasubramanian to science and public outreach. Prof Balasubramanian is a renowned biophysical chemist and ocular biochemist, former President of the Indian Academy of Sciences, and Director of Research at the Prof. Brien Holden Eye Research Centre of the LVPEI, Hyderabad.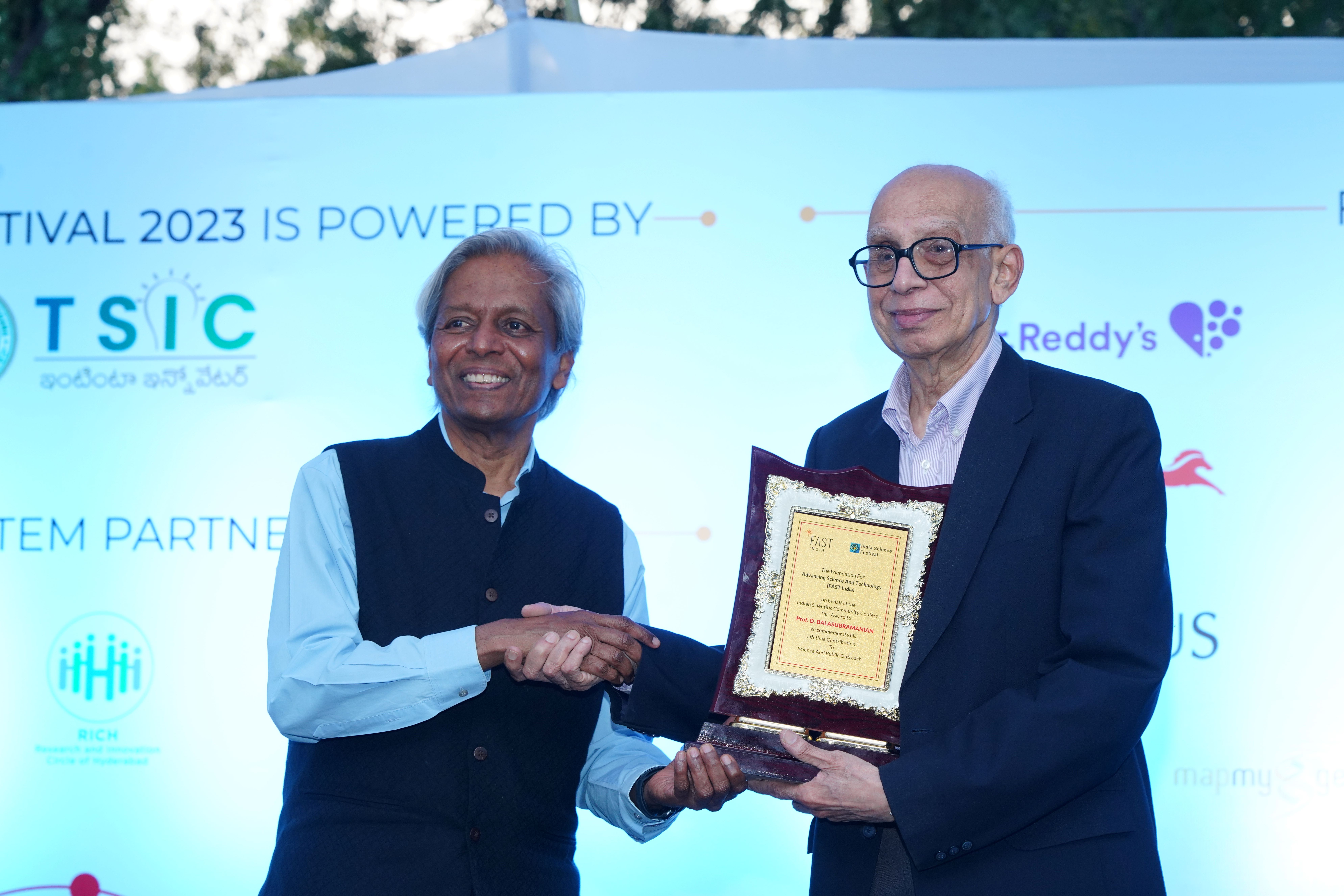 Experts from across the nation and the globe gathered at the festival also participated in thought-provoking policy roundtable discussions on crucial topics in science and technology. The rich diversity of ideas and perspectives from these discussions will be widely shared among relevant stakeholders, contributing to the advancement of science and technology. 
As in its previous editions, ISF 2023 endeavoured to ignite interest and passion for science, engineering, and innovation in the next generation while also highlighting India's rich contributions to the field of science and technology. The festival also delved into the interconnectedness of science with culture and society, providing a comprehensive view of the impact of science on our lives. Various speakers and festival attendees noted that ISF is an important platform for promoting learning, dialogue and collaborations in science and technology in the country. 
"The India Science Festival is an excellent initiative for democratising science and engaging a wider community. I hope it continues to grow and research more people and places." Prof Gagandeep Kang (Speaker at ISF 2023)
"The India Science Festival was a great opportunity to interact and engage with the nation's current and future STEM and policy leaders. Interacting with the audience made it clear that India's leadership role on the global stage will continue to grow." Dr Bidushi Bhattacharya (speaker at ISF 2023)
ISF is an extraordinary event, an ambitious concept, and I hope it becomes a popular annual festival, drawing large crowds of the public eager to learn about science and technology in a festival atmosphere. R Gopu (speaker at ISF 2023)
"The India Science Festival is making a worthy effort to bring science to the people. There are many opportunities at the festival to learn more about the fascinating world around us and inside of us." Maya Sharma (speaker at ISF 2023)
ISF 2023 was brought to life through the unwavering support of its dynamic ecosystem partners and generous funders, including IKP Knowledge Park, Research and Innovation Circle of Hyderabad (RICH), Natco, Dr Reddy's Foundation, DBT/Wellcome Trust India Alliance, Social Alpha, Microsoft, Laurus Labs, Biological E, Cactus Communications, and MapMyGenome.
In the years to come, ISF will continue to bring together world class scientists, researchers, and experts from across the globe to engage in thought-provoking discussions and promotion of science and technology. As the popularity of ISF continues to grow, the festival is poised to become a leading platform for promoting science and sparking interest in science and technology, particularly among young people, in India and beyond.
In case you missed it, check out the ISF 2023 theme song here: https://www.youtube.com/watch?v=fZh5ZIKJSpw.